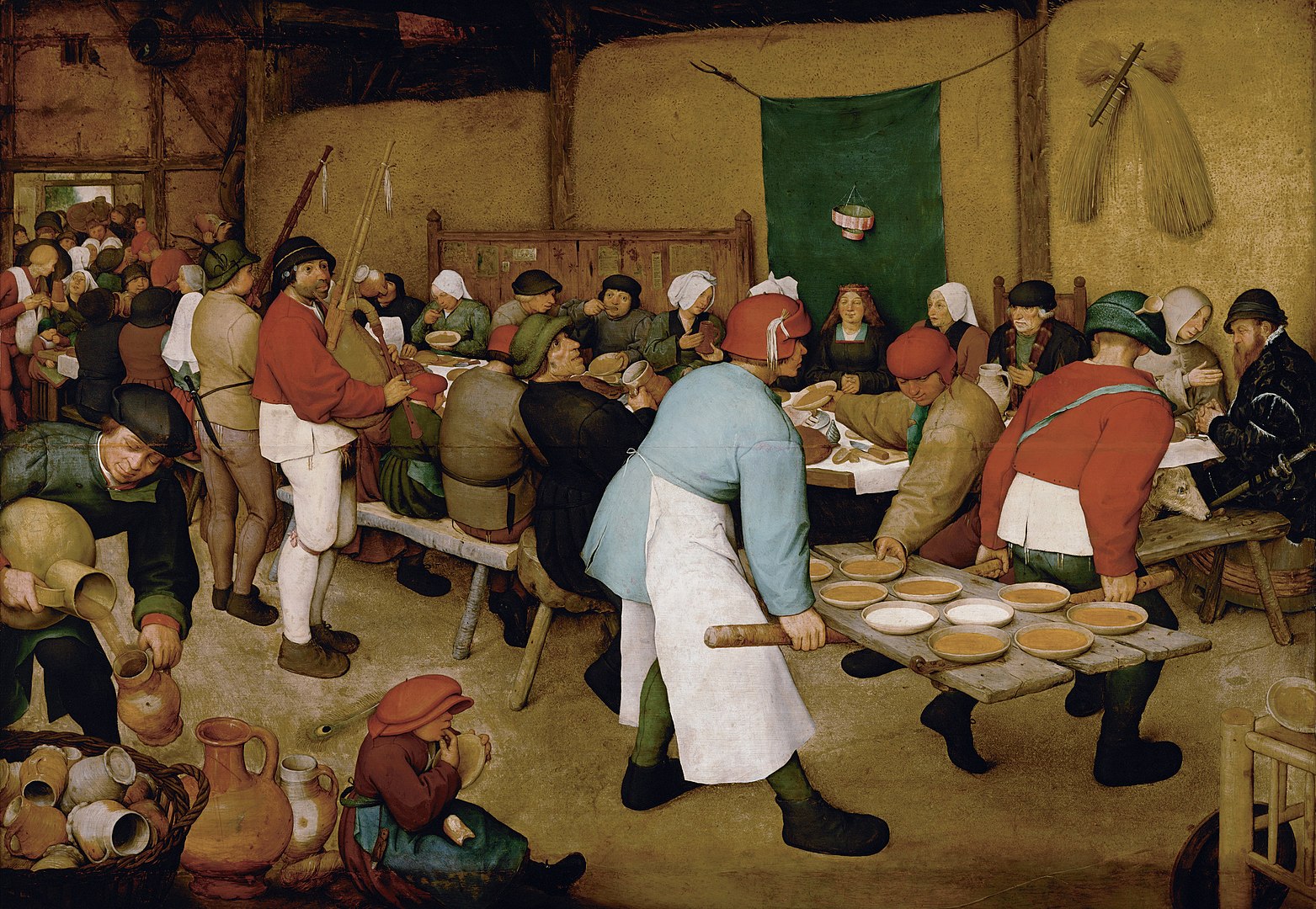 after Brueghel's "The Peasant Wedding"
and William Carlos Williams' poem
Bowls and white tablecloth and plain brown walls.
Bonnet, cap or hat.
A placid young girl sits on the floor, tasting something.
No one's beautiful, some faces are barely formed.
Even the whitish dog with its long pointed nose is
homespun.
A kindly one pours beer from a clay jug.
White caps and aprons add areas of brightness.
Plain black shoes, dark green leggings.
Bits of gold, red jackets, cool greens and yellow ochre.
They're drinking like babies.
The long wooden table juts out at a diagonal.
The bride has a special collar, her hands folded.
Her hair's long, and flat.
She wears a red headband and sits in front of a green cloth.
A sword, a tie under the knee, bagpipes.
Breughel's satisfaction in painting the surfaces.
A brown woven basket.
A plain wooden spoon in a young boy's hatband.
The food is plain, clabber perhaps.
One man looks hopeful—today some extra wine.
Someone's trying to get through the doorway with a platter
of food and more drink.
It's tight back there.
A young girl stuffs food in her mouth.
A child is licking a finger with the last of the food.
Large areas of color and shape.
He made these paintings that have come down to us.
A peacock feather perhaps symbolic of rebirth.
The children look old and blameless.
Out the rear door, trees and white sky.
A plain life, and a day when a little more is given.
You see he loved to paint the hands, the wheat bales, the
crossed sheaves.
Brueghel's interest in the back of necks, the rounded faces.
William Carlos Williams
Pediatrician, visitor to the homes of Polish mothers,
Writes a plain poem about the painting,
Just what pertains.
Parts of faces are blocked by other people.
What you might expect to be the center is not the center.
No one is looking at anything.
The people are crowded together
as they often are and every passage through life is
a celebration.
Image: The Peasant Wedding by Pieter Brueghel the Elder, 1566-69, Public Domain