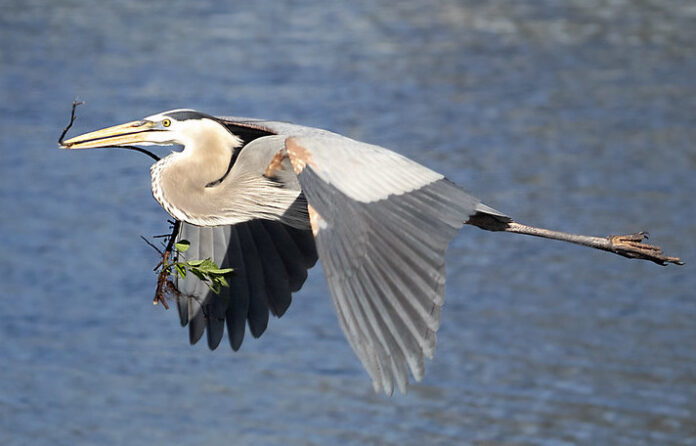 Out birding together, my mother and I would drop into a silent, side-by-side communion of awe, amazed that the world could reward this simple stillness with swift sightings of feathered creatures. We shared a certain sense of quiet excitement and frustration at our combined inability to master key identifiers. Accidental birders, neither of us kept a life list. Instead, we made smaller checklists and notations forgotten in birding books, novels, travel books, night table drawers. We chanted mantras of field marks that would distinguish Bonaparte from black-headed gull, piping from semipalmated plover. Always muttering markers and silhouettes as we rushed back from our walk, we would later find that the bird we were certain we had spotted could only be found, according to Sibley's Guide to Birds, in some small corner of Texas, not here on the southern coast of Maine, or at the top of the mountain in Montreal — wherever we happened to be wandering that day.
Red-Tailed Hawk  
I am driving trance-like along the Trans-Canada Highway after the whirlwind downward spiral of Mum's cancer diagnosis, funeral, and the purging of her two-room apartment. The sudden loss and energy vortex has left me empty of anything but tears and tiredness. Then, somewhere in the flat tree-lined wasteland past Rigaud, I spot a ragged red-tailed hawk sitting forlorn, slightly worse for wear, in a barren October tree. As I rush toward it, it stares at me, stares at the red Subaru — the one my brother mocked me for buying, him not knowing that it would allow the hawk to spot me. I feel its eyes on the red car, on me driving the red car, watching me, turning its head as I pass by. This tattered hawk that makes me shiver and cry with delight, all at once. It's a certain intimation that Mum is here, my mother here, moulting her cancer-battered body, just one last glance as I glide by to let me know that she is shedding her earth-bound being, but is present, watching, here watching.
Was she watching? Would she watch? She let me go so easily. That was our way. A leaving and a coming together, a leaving and a coming together and never having to worry about the connection. There was no wish on my part for proof of her love, her approval. Only a recognition, cellular perhaps, of our birthing tie, the genes that held us and that she fostered (then let me go), fostered, then let me go. I was, in many ways, an easy child. The easy child making difficult choices — to leave the confines of privilege, to write, to birth before marriage — but still an easy child. And we braided our lives, if not with lifestyle, with interests and adventures that kept bringing us back together, that fed the deep stream of meaning that became the wellspring of my being. A sense of wonder and connection to something bigger, born in her little-girl self in the silent wilderness of northern Quebec, and shared with me at the ocean's edge in Maine, or under the expansive sky in Saskatchewan. She slyly inculcated a love for things that could not be measured in my father's accounting ledgers, encounters that held a deeper, more mysterious, and unexpected beauty. Poetry, prairies, prayer, birds.
Northern Harrier
For my 60th birthday, my husband gifts me a week with friends at Goose Rocks Beach in our traditional family rental right on the ocean. Women friends. Just a crones' week at the emptying beach in the shortening days of autumn. A long-awaited respite from caregiving, among women who care for me just by being present to the sunrise and the sunset and the long stretch of fine sand and seaweed that calls for lengthy walks at low and high and all the tides between. The glowing amber evening light from the cottage holds warmth and wine and melding of music that blends all our diverse stories. The gentle rhythm of the days soothes my bereft soul with sighs of surrendering and just breathing. Then, early one morning, meditating on the flat granite rock perched on the edge overlooking the expanse of beach, ocean, sky, I feel a swoosh of air that lands on the jutting rock beside me. I open my eyes and slowly turn and look straight into the lemon eyes of a harrier hawk, one rock over. I hold my breath, my mantra gone. My stare into harrier eyes, harrier eyes into mine. I whisper "Mum." It crooks its head, then pushes off the rock and I can feel the whoosh and rush of air as it swoops back over the marsh behind us.
We learned to carry a bird book with us, Mum and me, and to travel with birders. In Maine, as soon as we arrived at the beach, we would go to the corner store, perched precariously on the edge of the marsh just behind our ocean-front cottage, and pick up the tourist news where the weekly bird walks and Audubon talks were posted, and we would plan our days around them. Up early just before the sun, we learned to drive to the back end of the golf course and wind our way through the weeds and the meadow on the cliff to the narrow walkway around the point to the north end of Biddeford Pool. Early, with thermos, binoculars, and bird book, we'd sit still, waiting for the sun and the birds to rise. This, a break from the hours of just sitting in our low beach chairs, saying nothing, or nothing much, or something so deep and personal it was as if we had whispered each other's longings into the sea wind.
A Riot of Birds
At home, after a particularly fractious morning with my daughter, who is recovering from a brain injury that causes unpredictable spurts of anger and aggression, I retreat to the living room and sit on the couch to mask my tears and look out the window, somewhere away from the confines of this house, my life. It is February, not yet spring. February, not really a bird month. Suddenly chaos erupts in the treeless maple out front. A riot of flitting birds. A pair of cardinals, a blue jay, a wren, a junco, a woodpecker, the tree all in turmoil. A distraction, a comfort. It's Mum out there, still Mum out there, making me laugh. I am with you, with you, with you, she calls. I wipe my tears and keep mothering.
Mothering.
In her later years, my mother's unique solution to our challenge of identification was to have me accompany her on wild adventures to far-flung isles—the Galapagos, the Faroes, Norwegian fjords — where the birds were difficult to mistake. Especially under the gentle tutelage of trained ornithologists, who travelled, along with geologists, oceanographers, and even a poet or two, with us on small expedition boats and pangas as we walked among blue-footed boobies, kayaked with puffins, or climbed tall cliffs under the diving and deadly zip-line plunge of the great skuas. They all fell in love with her calm curiosity and were happy to follow her from panga to whale spotting deck to smoking room, carrying her coffee, her binoculars, her small knapsack. She attracted scientists, artists, and kitchen staff with her quiet questions and intensely respectful and inquiring eyes, then retreated to her knitting as she and I reviewed the days and the sightings. She said she loved my eagerness for adventure, my enthusiasm for every new sighting — common or rare. She forgot this was her teaching, her gift to me. Schooled by random car trips to the outskirts of the city where she would gently prompt, hands ready on the steering wheel: now which way? Leaving direction up to me. I learned the fun was in the dead ends, the detours — the misread map, the sudden apparition of pottery studio, shed, farmer's field — not the final destination.
Sandhill Crane
The first thing I do when I arrive in Florida, is buy a bike. A cheapish Walmart cruiser. The beach is steep in Tequesta and walks at high tide can only take you so far. So, for breaks in helping my brother sort through and pack up my mother's beach condo, small respites from the forced confrontation with memory and a life, I ride. My brother John has dealt with his portion — golf paraphernalia, cookery, linen. He leaves the clothes, books, and AA medallions to me. We ride everyday before dinner, the same paths along the coast, until I convince him to throw the bikes in the back of the car and drive us to Jonathan Dickinson State Park inland on the nearby Loxahatchee. We unload and follow the narrow flat trails in and out of pine scrub, flatwood, wet prairie, dome swamps, meandering river, moss covered trees. At the first turn, just before the wooden bridge I jolt on the brakes, almost causing John to backend me. There, crossing the stream beside the wooden bridge and oblivious to bikers, is a Sandhill crane, red-crowned, tall and tawny, nudging a scattering of chicks across the shallow stream. At the next winding corner, I spot an American coot on the far side of a marsh, and closer to us, in the weeds, the red bill of a Moorhen. I look at John and raise my eyebrows. Little of this means anything to him, really, but when I point out the markings, show him the drawings in Sibley's, he's game and on the hunt. We cannot believe our luck as snowy egret, great egret, great blue heron, yellow-crowned night heron all appear on the edges of marsh, river, swamp, hidden slightly from view, but not impossible to spot. A wild turkey rushes across the path and we swerve down another detour across the gator culvert and end up lost in a field by a muddied stream dribbling into the Loxahatche. Looking up, the white Vs of swallow-tailed kites circle in the updraft while a red- shouldered hawk sits high on a deadened stump. We stop only for water, an almond bar, a little sustenance as we travel all the meandering paths, once, twice, sometimes in circles. Quietly whispering to each other, stopping, pointing, binoculars passed back and forth as I tell him what to look for. Whooping for glee along downhill paths, scattering scrub jays and grackles as we whiz by. We are children again, delighted with our mother's gift.
Grounded now, I carry my mother's Sibley's, her binoculars, and a thermos of coffee. There is no sighting without coffee — in kayaks or car or the edge of the river — a little Salut to Mum who was never without coffee. While Sibley's Guide to Birds won't recompense my loss, it is a beginning, a link. I bring it with me, pack in it my knapsack as I leave the house for my morning river walk. Some pages have been welded together by water and gently pried apart, a palimpsest ghosted by time and travel. My walks are rambling, along familiar urban paths that follow the river and lead through ponds, inlets, underpasses. I put the earbuds away. Turn off the music. I am practicing being present.
Great Blue Heron
I take the highway west, aiming for a simple birding adventure, not too far from home, but far enough to distance me from family, responsibility, the pandemic. I have a small thermos of coffee, binoculars, bird book. The sacramental elements of remembrance on the fifth anniversary of my mother's death. I am headed out to bird, to consort with her spirit in the closest I can get to the northern flat rocky land of her childhood and comfort. The day is cool and gray. Quiet. For a moment, the pandemic has disappeared. There is only loss and a fecund promise of being. The parking lot is empty. I slip the knapsack on my back and veer off on a rocky trail full of tree roots and boulders and rising and falling ground. There is a flicker and a dark dart and the happy black and white of chickadees in the pine, the pin oak, the maple, the elm. All yellow and bright in the darkening sky. I hike up and down, around tree trunks and boulders, across boardwalks slightly sunken in the mud. A flit catches my eye, but no sighting, no matter how silent or long or still I stand on waters edge or deep in the forest. It is eerily quiet. Back at the car I am birdless and hungry. I grab the packed lunch and walk down a short path to a small rock outcrop on the shore. Small islets with single trees, bush dot the water. All is grey and brown and quiet. No riot of birds, no surprise sapsucker or grosbeak, just the mundane — the chickadee, an armada of geese, my own self. I break the bread, sink my teeth into cheddar. Crunch red apple. Then crack open the small thermos of black coffee that I have allowed myself today. I sit and breathe in my disappointment, the gray sky, the slightly rancid swamp smell. And let go of it all. Make myself praise: the redness of the apple, the pine needles on moss, the movement of muscles, the silence of my own being. I sit. This is, I think, what it is. A day of letting go. My eyes relax into the horizon, my breath into the cool air. Startled, a great blue heron rises in one sharp movement from the rock just meters from my seat. A strong languid beat of massive wings lifts her into the air. Her long beak sharp, undulating neck gracefully folding into body, broad wings slowly and powerfully pushing the air beneath her, long legs dangling. This great gray ghost ascends out of her reflection and glides past me toward the haze of the horizon.
I do not know when my mother will next appear, but I hold her lightly in my heart and know she soars. I am learning to look for wonders, miracles, thin spaces. Those liminal places where gaps crack open when a loved one dies. Then reappear. If we pay attention, slant. Catching a flick, a shift, on the periphery of our vision. If we hold a birder's eye to the world. 
Image: Great Blue Heron, by CW, licensed under CC 2.0.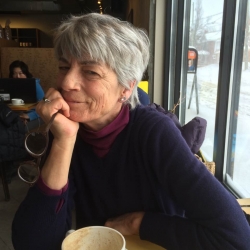 Latest posts by Nancy Huggett
(see all)