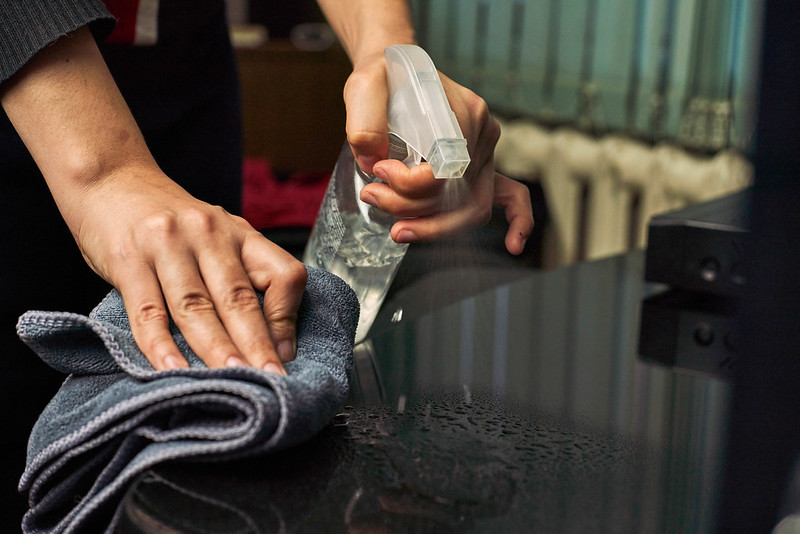 That day, I was Windexing my mother's coffee table. It was probably a Saturday. My mother sat on one end of her hunter-green couch watching TV, and my sister, Alycia, sat on the other end with a TV tray in front of her. Alycia shuttled colorful pills from orange plastic bottles to their respective day-of-the-week compartments. I chatted about the Oprah show. Like an idiot, I brought up Lance Armstrong who had been a recent guest. 
"Ma, you have to get his book," I said, kneeling at her glass table, wiping a rectangular panel. "He had chemo so toxic, the nurses had to wear protective gear to give him his treatment, and he still survived." 
My sister shot me a look like, What are you doing? My attempt at inspiration suddenly felt inappropriate. 
My mother pointed the remote at the TV and Martha Stewart's raspberry tarts snapped off the air. 
She shook her head. "I watch all these cooking shows, but I can't eat anything." 
She wasn't wearing her wig. Lately, she only put it on for doctor appointments or company.
"Listen girls," she said, pushing herself up straighter. She was slimmer than she had been in years, her cheekbones prominent again, but not in a good way. 
"I want to tell you," she said, "my beautiful daughters." She pointed to her chest. "All my life I thought I had small breasts — I stuffed socks down my bra," she smiled. "Tissue paper when I went to dances. I didn't appreciate what I had. And then, I got breast cancer." 
"C'mon, Mom," I jumped in, "don't talk like that." 
Alycia interrupted. "Ma, that's ridiculous."
We were used to these prophetic pauses of hers. Throughout our lives, she would dispense sage advice with empathy and encouragement. When my first love broke up with me, a boy in high school nicknamed 'Rebel', my mother dried my tears and made a banana split for the two of us. I'm sure that deep down inside she was relieved not to see his spiky hair, safety-pinned jean jacket and teen angst anymore, but she didn't riddle me with 'told you so's'. She said I'd have more boyfriends even though I didn't believe her. 
When my sister graduated with a fashion merchandising degree and had to choose between two job offers — one, at a retail store making good money, and another, as an assistant buyer, her dream job, making less money — my mother told her to go with her gut. 
"Take your dream job," she said. "You'll make more money later. And when you decline the other offer, be appreciative. You never know…you might want to work for that company someday." 
No matter her advice, she'd always punctuate her guidance with, "Nothing is engraved in stone. You can always change your mind." 
Now, her sixty-year-old frame was weak, and her five-foot height seemed even smaller than usual. Resting at her feet was a plastic grocery bag filled with a chorus of crumpled Kleenex. She lifted her index finger in the air.   
"I'm not finished," she said. She pointed to her head. "And I always thought I was stupid." 
We knew what she was talking about. The struggles she had reading as a child. The slaps in the back of the head she got from her father when she failed tests and barely graduated from high school. "Stupida," he would call her in his Southern Italian dialect. She repeated this word in her head for most of her life. 
When, at fifty years old, she was finally diagnosed with dyslexia, I thought she would be upset, but arriving home from her educational evaluation, my mother raised her arms in touchdown victory and shouted, "I'm not stupid! I have dyslexia!" She celebrated her new label by installing Dragon Naturally Speaking on her desktop and enrolling in counseling sessions, trying to undo a lifetime of shame and ridicule. 
Back in her living room, with her finger resting on her temple, she said, "I always thought I was stupid, and see? The cancer has spread to my brain."
Again, Alycia and I erupted in "This is not your fault," and "You can't blame yourself." We tried to stop her from sharing her regrets, from breaking all our hearts at the same time. 
She went on, "The body knows. It's listening to what you tell it. Don't ever put yourselves down, and don't let anyone else put you down." She smiled with a resolved satisfaction. If nothing else, she would save her daughters from self-doubt and insecurity, toxins worse than the strongest chemo. "God don't make junk, my loves. You understand?" 
"Yeah, Mom," Alycia said quietly. 
My mother wasn't going to wait for a deathbed farewell. With her daughters taking care of her, the way she took care of her mother and her sister when they had breast cancer, she was still dispensing her wisdom. 
"I got it, Ma." I spritzed the glass coffee table again, wiping a stubborn smudge that wasn't there. 
Image: by Marco Verch, licensed under CC 2.0.
Latest posts by Maria Ceferatti
(see all)