I was in the Grand Teton National Park, carrying bear spray, a bell, and a set of instructions memorized in case I ran into a bear. The water-logged trail to Taggart Lake ambled along through a deeply wooded pine forest. The ground was soft, carpeted with fallen wet leaves venting a crimson hue. My boots were soaked. The trees creaked like old wooden doors and the swish of wind in the forest felt like someone shuffling behind a bush ready to pounce. I yelled in a sing song voice "Hey, bear… hey, bear" every 40 seconds or so and wondered (for the umpteenth time that week) whether drawing attention to the fact that I was a lone hiker was a good idea. But the bear safety guidelines had clearly stated: Make noise.
It was the middle of October. The weather had been turning for a couple of days, getting colder and unpredictable. There were few tourists in the town and fewer on the trails. The distant haunting cry of an elk followed me to the end of the trail where the storm clouds kept the looming, Teton peaks hidden. I stood in awe taking in the view. The greenish, crystal-clear glacial lake was nestled high and deep in the valley reflecting the sublime colors of fall around. It was a little after 2 pm. I ate my sandwich by the water, fished out my book, Bruce Chatwin's In Patagonia, from my backpack (the other book I was carrying was Bill Bryson's A Walk in the Woods) and read for a while. I was distracted and the words I read barely lingered. I contemplated the dark sky above the hidden Tetons. I tried to imagine a clear day, the blue of the sky on the green lake, the image of the peaks on the still water and me splashing about. The lake lit up, interrupting my thoughts, as lightning flashed across the sky. I got up, packed my stuff into the bag, stretched my legs, and instead of continuing on the looped trail, I decided to head back on the path I came from.
It was a seventy-five-minute drive, one-way, over the Teton Pass from Grand Teton to my Airbnb in Victor, Idaho. Why Victor, a small town with one stoplight? Reason: it was cheaper than Jackson Hole, Wyoming. I had already spent the first five days of my vacation living and hiking in Yellowstone, which was pricey. So, for the Grand Teton leg of my journey I decided to live outside the park. The fatigue of driving and hiking alone in bear country was getting to me; I had never done a solo trip like this before and I was a new driver in a foreign land.
I had traveled to other parts of America, mostly cities like San Francisco, Miami, Washington, D.C., and New York, but always with a group. After graduate school, then a new job as a data analyst and building a life in a whole new country and culture, traveling solo felt like the next rite of passage, the sign that I had arrived. That I could make it here on my own. Well, that was the speech I gave myself. You see, the trip was initially planned with my father who lived in India. It was going to be his first time in America, first time exploring a foreign land with his daughter. In his youth he had once travelled to Europe but that was for work. Unfortunately, his U.S. tourist visa application got held up for administrative processing (neither my father nor I completely understood why or knew for how long) and I could not find anyone else to travel with on short notice. I struggled with the decision. I could put it off and lose money on the non-refundable flights and reservations, or I could go for it. I was twenty-eight, practically an adult woman here I reminded myself and decided, why the eff not!
On my way back from the park, I stopped for coffee and my fourth croissant of the day —ham and cheese this time—at Jackson Hole. Outside of the unfrequented backcountry trails that I chose to hike, a coffee shop was my second refuge, my safe space, on this trip. The café sat right by the town square, overlooking a little park that had Elk antler bone white arches guarding each entrance. Savoring the coffee, I watched the storm clouds get darker. If my father were here, he would have pointed to the dark sky and remarked, "Apt, so very apt for rum and contemplation…" and probably asked me to explain (again) the difference between a cappuccino, a cortado, and a latte. The thought made me smile.
I bought another croissant for the night and left the café. I walked across the park, past a young couple snapping selfies by the arches, a little girl screaming behind a fat squirrel, and got into my car. By the time I crossed the Teton Pass to get to Victor, a snowstorm was raging. Next morning the pass was closed. I was stuck in Victor.
What the hell do I do in backcountry Idaho? 
Back in my Airbnb room, I drifted off, lucid dreaming about being on a stage and struggling to say the word Idaho properly in front of a group of people booing (who looked like characters from the show Letterkenny): ee-Dah-ho?  
The 2016 presidential election was less than a month away. At the time, I hadn't lived long enough in America to really understand its politics. But, halfway through 2016 especially after the primaries it was hard not to pay attention or not to care. As an immigrant woman of color, and on my own here, there is always some uncertainty that I have to live with. The election rhetoric around immigration and immigrants made me a lot more self-conscious of my status and my place in this country which contributed to a general feeling of unease.
The constant politicization and dehumanization of my mere existence turned my gaze to make sense of the 'New World' that I wanted to call home. I felt the need to categorize the people who seemed to be the dominant voice in categorizing and othering me. It was a slow grinding turmoil seeping into every aspect of my life including interacting with white people, especially on this trip. My liberal Boston friends cautioned me about traveling through places that they called the "red" states. Even though Boston wasn't always actually that liberal, still, their comments got into my head. All week, while driving through Montana, Wyoming, and now Idaho (these states would majority vote for Trump in a month), I'd been inadvertently cautious while interacting with white people; wondering about who they supported because that would apparently tell me all I needed to know about a person.
The next morning, I watched the storm clouds swirling around the back of the snowcapped Tetons. It felt drastic, after a rigid itinerary of trails to hike and views to see to suddenly have no plans. My host was up early too and offered me coffee. I asked her what I could do in Victor. She mentioned a thrift store, a library, and for breakfast recommended a European-style bakery café called Pendl's in Driggs, the next town over. "There's not much to do here," she added in monotone. For most of my stay she remained polite and aloof but generous with her coffee. I decided to get breakfast at the café she recommended.
In Victor, it was overcast with a light dusting of snow everywhere. The sky over Driggs, a fifteen-minute drive away, was clear and bright, no sign of the storm. Maybe it was the time of the day and it being off season but downtown Driggs, to me, felt forlorn. I drove through the pallid main street past the post office, a church, the library and some boarded up stores and turned onto a side street. The café, sporting red walls and a sloping green roof shed, stood behind a giant warehouse, trucks and RVs parked all around it. Surprisingly quaint. I entered and, like a woman on a mission, headed straight to the counter. I ordered an apple strudel with whipped cream, a cinnamon schenken, a sausage butternut squash quiche, and a steaming cup of Earl Grey to stay.
While waiting for my order, I texted a friend in Boston: I am pretty sure I am the only brown person in this town for miles and miles. Later I learned that Driggs per the 2010 census had a population of about 2000, and the racial makeup was ~73% white, and ~31% Hispanic or Latino. I turned to look around the tiny café: all four tables were occupied. The racial diversity in the café was 100% white. I turned back and said, "Oh, maybe. I. Should. Get. All. This. To. Go…" I spoke slowly and deliberately to make sure the young woman at the counter, who had just served me, understood my accent. "Looks pretty full here."
She smiled, adjusting her blue beanie over her blonde bangs. "Sure. Or, maybe if you are friendly enough, or the people here are friendly enough…" her voice trailed off. I stared at her, unsure of what to do next. She smiled even more in a way that felt patronizing, unnerving me further, and said, "The people here are friendly. Let me help you carry your food."
"Oh, that's ok. I can just eat in my car. I have a long drive," I blurted. But by then she had vanished to the back of the café. 
I stood there with my pastries. My first two years in America had given way to a strange conditioning. The mere idea of being visible in an unfamiliar place unnerved me.  To be that person of color in the room drawing attention. I looked out the café window and stared into the front of a RV parked right outside. There was a man in a red baseball hat with a coffee mug staring right back.  
Suddenly the blue beanie lady was by my side guiding me to the nearest table while carrying half my food. "Lannie, can this young woman share your table?" she asked an elderly lady, who was reading the paper. 
Lannie was in jeans and a gray hoodie, wearing purple eye shadow, her blonde hair in a short crop. She looked up with a frown and then smiled broadly. The lines on her forehead like crescent marks.  "Oh yes, of course!" 
"Thank you," I said. Lannie smiled again and moved her cup and plate to make room for mine; she got back to reading her paper occasionally looking my way. I took my jacket off and settled in my seat and, in spite of myself, was glad to get a spot. It was a charming café and I wanted to enjoy my pastries and tea and write in my Moleskine journal about the last days hiking the various titty trails (Teton apparently means nipple in French). I was inspired by In Patagonia, its prose evoked a fantastical sense of being that I hoped to emulate in my writing. But first: pastries. 
I bit into the strudel, tasting the cinnamon and nutmeg. The filling was a little tart despite the raisins, the dough fluffy and light. "Wow, this is really, really good strudel," I heard myself say around a mouthful. Lannie laughed.
"Yes, they do it well here. Less sweet, too. I like it that way." She sipped her coffee and bit into her scone, watching me. "So, where are you from?" she asked.
"Boston," I said. 
 "Oh, is that so?"
I quickly clarified, "Originally, I am from India. I moved to America only two years ago." 
"Oh! Only two years? I would have never guessed it. Your English is so good." 
 "Oh, yeah?" I said without missing a beat. "So is yours."
If my response caused some tension, Lannie did a great job of covering it up with her smile. I knew it was unintentional, not meant to offend, but I was tired of that staid and unnecessary comment (a presumed compliment), like an animal pissing to mark some territory. I took another bite of my strudel and tried to relax a bit. 
"Do you come here often?" I asked, taking on a conciliatory tone. 
"Oh, yes! It's the only decent bakery in Teton village. Even better than the ones in Jackson Hole. I lived there once, you know," she said. "Traveling alone?"
I told her about my father and his visa issues. Lannie's countenance changed a bit, as if she wasn't quite sure what to ask next. 
"Back home, hiking was our thing. We would go to all these places up in the mountains and plains. Feels weird without him." I explained.
"I see. So, you never intended on traveling alone?" she asked. I nodded without saying anything. "You know," Lannie said. "I never intended on being alone, but here I am."
Her last comment, of course, resonated. The past week, I had spent most of my time hiking alone, avoiding tourist spots and conversation. After the first night of my trip, where I got overwhelmed making conversation with some "friendly" guys from Texas, I avoided sitting at the bar. Most of my interactions had been brief and transient. Now, here I was sharing a table for the first time in a week and, suddenly, I was hungry for a connection. I spoke about the trails I hiked, and the gigantic fireplace and comfy chairs at the Old Faithful Inn in Yellowstone, where you can be invisible in a room full of tourists. She told me it'd been a while since she'd made it back there. Years in fact, had never really seen the geysers or this inn I spoke of. We fell silent for a while. I wanted to ask Lannie about her life, get a sense of her politics, what was she doing on a Tuesday morning in a café in a town called Driggs. Why was she alone? But my tongue felt like lead. Questions like, "What do you do?" and "Tell me about your life?" sounded so inane and intrusive. 
Lannie's voice cut into my thoughts. "They also do the raspberry Danish and the chocolate croissant really well. That's what I am going to get to go." She leaned in and continued, "Once you go farther out, it's really hard to find a good pastry." She put away her newspaper. "Are you? 
"Am I what?"
"Are you planning to go farther out?" 
"I don't know. Should I?" 
"If you're here, might as well." 
"Where should I go?" She smiled and proceeded to tell me about Targhee National Forest. 
Lannie got ready to leave, saying she was off to a thrift store to buy blue jeans, waist 27, for her niece. "You seem like a waist 27," she added. 
"I won't be after all these pastries." At that, she rolled her eyes. Right. 
I watched Lannie leave and glanced around the café. Everyone seemed to know each other but no one, except blue beanie lady, had acknowledged Lannie the entire time I was there. I looked out the window and saw Lannie enthusiastically waving my way and pointing at the direction of the thrift store. I smiled and mouthed thank you.
I ordered a sandwich for the road and complimented the apple strudel. Blue beanie lady seemed pleased. In the car, I put in the destination on my phone that Lannie had provided then drove for a long time past unending farmlands, hay bales, and granaries, blasting country music on the radio, chuckling at the lyrics. The landscape was completely different. Who'd guess that there was a storm raging just forty-five miles away on snow-capped peaks and dense forest? I had never seen hay bales stacked so tall, or driven through landscape so flat and golden. Farmland upon farmland for miles and miles sans people. I was enamored. I kept driving. Finally, a mountain range sprung high up at a distance. 
Targhee National Forest was a lesser-known part of Yellowstone and Grand Teton that no tourist really ventured to. None of the guidebooks and websites had mentioned it. But Lannie had said that's where her niece went hiking (and painting; her niece was an artist) and had gushed about the Messa Falls.
The Upper Messa Falls, cascading and taking up the entire width of the Snake River before gushing down more than 100 feet into an ancient canyon, was big and powerful. The information board outside the visitor center (closed for the season) had read: Born of Fire, Shaped by Water. The Snake River has been slowing chipping and chiseling away through the solidified basalt, that were once lava flows, for a few hundred thousand years. Parts of the Caldera and the volcanic canyon through which the river flowed were at least a million years old. I watched the water, gushing, spraying and frothing, teeming with rainbow streaks. Beyond, the forest lay dense, speckled with fall colors burning bright. I breathed in deep and finally felt at ease. I spotted a trailhead and followed it. I ended up doing a loop, and then found another trail, then another. 
When I hike my mind becomes blank. Well, not exactly blank, just lacking thought. The American-British writer Bill Bryson in his book A Walk in the Woods talks about how walking like this you exist in a kind of mobile Zen mode, your brain like a balloon tethered with string, accompanying but not actually part of the body below. I don't think I was that untethered, but I welcomed the break from the clutter of thoughts and anxieties that seemed to dominate the trip––of how I had begun to perceive certain category of people, and worried about how I, an immigrant, was perceived in return. Here, in nature it was easier to just be, however ephemeral. I took in the scenery and kept walking. I stopped by a pond on the trail. Golden leaves rested at the water's edge, with shriveling curled edges, reaching for the autumn sun, the lily pads shedding their last petals of the season. The place looked like a poster you'd see in a meditation center. 
It was midday and getting a little warmer. I made my way back and found a bench facing the waterfall. Except for one family at the parking lot, I hadn't run into another soul the whole time. I took out my sandwich––a multigrain baguette slathered with hummus, avocado, slices of crunchy red peppers, and black forest ham. I stared at the gushing water and wondered what to do next. Should I read In Patagonia? Should I write in my Moleskine? I lingered. I was adamant to feel the glory of solitude in this gorgeous hidden and ancient waterfall, in a place afar. 
Repeating thoughts coursed through my mind of what I was trying to do, to feel. I thought about my father and our long hikes back in India. The rocky trails of low lying Garhwal hills in Uttaranchal, the rolling green slopes and the winding path through the tea gardens of Darjeeling and Nilgiris, the unmarked trails to hidden monasteries in Sikkim, the treacherous roads up Lohagad, Sinhagad and Pratapgad fortresses in the monsoons, and our long walks on the beaches of Kannur marveling at waves as high as a four-story building. Memories from a time not that long ago but suddenly so distant. 
I thought about my time in Yellowstone. The sheer size of Yellowstone is overwhelming, it dwarfs everything that's in it, almost understates it––the wildlife, the geysers, the springs, the pristine lakes, the ravaged forests, the mountains, the rolling unending valleys of Hayden and Lamar, the canyons, the waterfalls, everything. My father would have enjoyed exploring it, pacified my fear of the bears by reminding me about the amphibious Bengal Tiger of Sundarbans that had jumped up on our boat, snarled at us, before jumping back into the water and swimming away, while I (twenty-two at the time of that holiday) stood petrified behind my father. He would have marveled at the geysers around Old Faithful (the colorful stains of thermophiles gave some geysers magnificent colors), and appreciated the otherworldly feel of Mammoth hot springs, and the steaming Mystic Falls hidden far beyond the tourist infested Biscuit Basin boardwalk, likening it to some alien planet. He would have dismayed at the somewhat emaciated wolves of Hayden Valley and slowed the car, for pictures, every time we passed a herd of pensive bison, giant owls, and once even a bighorn sheep. We would have hiked up Mt. Washburn for the spectacular 360-degree views, dotted with plumes of smoke, dewdrop sized lakes, showcasing the sheer size and flora diversity of Yellowstone, and trudged through dense pine forest along the rolling golden grassy balds to the crystal-clear Shoshone Lake; all the while discussing what we'd do if we came upon a bear. He would've joked, "I have nothing to worry about. All I have to do is run faster than you." At that I laughed out loud, knocking me out my reverie. 
I remembered another line from the Bryson book, Where I was, in fact, was companionless, far away from where I had gotten off the trail… I had not gotten off the trail, I had embarked upon a new path, a path where I would not see my father for another two years. The hard realization that the distance between us wasn't just across oceans and continents, but also administrative. He'd been worried that I was doing this alone, disappointed at the arduous tourist visa application process. I stretched and twirled my hair (and my thoughts), part braiding and part matting the different strands into a plait, a compulsive habit I have of playing with my hair; a mild form of Trichotillomania according to WebMd. 
In four months, on February 22, 2017, two Indian engineers drinking at a bar in a small town in Kansas would be shot at by a white male screaming, "Get out of my country!" One of them, Srinivas Kuchibotla would die. Six days later his wife would ask in a Facebook post: Do we belong here? I would read their profiles and life story in The New York Times and Wired, affected by the similarities of our backgrounds. My father would ask me, "Is that where you went for your trip?" I would reply, "Not even close," but then double check the geography of the state just to be sure. Life would go on. I would plan more trips and see Yosemite, Grand Canyon, Olympic National Park, and Acadia. But that uneasy feeling would never go away. All that was ahead of me. 
I continued staring at the water untangling my hair that felt like a dreadlock. I thought about Lannie. In the book, In Patagonia, Bruce Chatwin writes about the beauty of Patagonia and fictionalized tales of simple people with fantastical backgrounds. I tried to make one up for Lannie and imagined her sitting at this very spot with pastries in her backpack. Who was Lannie? Did I disrupt her morning? Did I provide any value to it the way she did to mine? And what about the others that I had met the past week? And what did they make of me? British born American writer Pico Iyer, wrote in his essay "Why We Travel" that sometimes we travel to shake up our complacencies. Iyer quoted the philosopher and essayist George Santayana, "We need sometimes to escape into open solitudes, into aimlessness, into the moral holiday of running some pure hazard, in order to sharpen the edge of life, to taste hardship, and to be compelled to work desperately for a moment at no matter what." In my case, it wasn't complacency. Introversion, reticence, accent, color of my skin, immigration status, alone and outside my comfort zone––reasons and excuses I was unable to get past, shake up or off. But I was trying, and because of it I had experienced the physical manifestation of solitude, loneliness, contentment, fear, panic and epiphany in nature and its sights, and despite of it all, managed to bask in the peace that came with it. And for that I was grateful. I took a deep breath in then out. In then out. I repeated the motion a few times over.
I got up to leave. I was about to trash the brown paper bag when I noticed two pastries, slightly squashed and damp, at the bottom of the bag: a raspberry Danish and an apple strudel. I had not asked for those. I wondered if it had been the blue beanie lady, or perhaps Lannie. Taking in the landscape around me one more time, I smiled and devoured the pastries.
Image: provided by the author.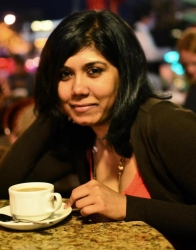 Latest posts by Tanushree Baidya
(see all)