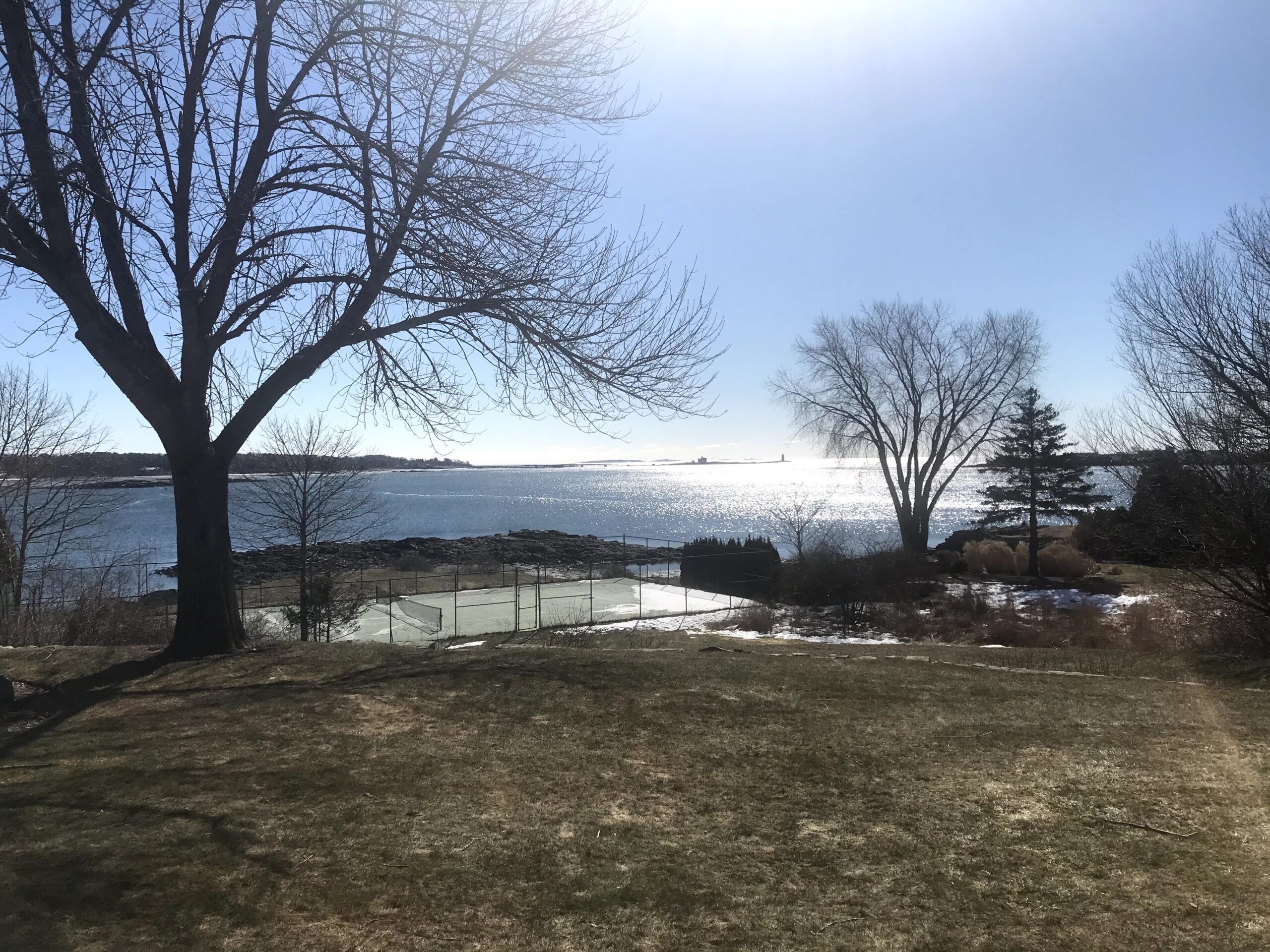 The William Dean Howells Memorial House sits on a perch above the mouth of the Piscataqua River that flows into Portsmouth Harbor in the Gulf of Maine; the gulf, in turn, empties into the Atlantic Ocean. The sun rises and lowers a bridge of gold across the river and gulf to the rocks buttressing the house's gardens. At midday, buttery waves stretch from the stony shore to where the ocean meets the sky. Later, a multitude of stars reminds us of unknown worlds while the moon insinuates itself onto dark waters to reveal rippling water.
In January 2021, my husband, son, and I stayed for a few days at the Howells House; it was a break from the Boston-Cambridge winter, the usual seasonal confinement and bleak spirits exacerbated by the pandemic and ongoing racial violence. Some weeks later, still world-weary, I found myself lobbying the family to return to Kittery Point. All the while I wondered that I, a brown daughter of immigrants, longed for the home of a "dead white male author."
A major figure of American letters in the late 19th and early 20th centuries, William Dean Howells was known for his own writing, for his position as editor of the Boston-based Atlantic, and for helping to establish the careers of such now-notables as Mark Twain, Henry James, and Paul Dunbar. Howells leaned towards social realism in his own work, perhaps most famously in his novel The Rise of Silas Lapham, about the moral perils surrounding one man's rags to riches story. Howells valued the attention to those on the margins in the writing of those whom he championed, and it is not surprising that Howells extolled the "poetic-in-the-common" in Dunbar's stories of African American lives in the South.
William Dean Howells's childhood in the Midwest had been shaped by financial struggle and frequent shifting of home. As an adult, he moved from city to city, neighborhood to neighborhood, house to house. Late in life he discovered the house at Kittery Point, which decades later would be known by others as the Howells Memorial House. In 1902, after leasing the house on several occasions, Howells yielded to his fate, and purchased it as a retreat for himself and his family. Departing from his usual habit, Howells retained and enjoyed this home for nearly twenty years; it was only upon his wife's death, when he could not bear to inhabit it without her, that he relinquished it to family. He acquired another one for himself in a nearby town—in sight of the same bodies of water. In the 1970s, his son gave the Kittery Point house to Harvard University in memory of Howells. Under the terms of the gift, members of the university community are welcome to rent it for professional work or simply relaxation, and that's how my family and I first came by it.
At Kittery Point, Howells had the carriage house relocated from the roadside to a lot adjacent to the main building. This became his study, and with the move, along with a room of his own within the family orbit, he gained a view of the water. He even ensured that the corridor between the main house and the study had windows. As they are now, three stalwart lighthouses were in view from any window facing the water. The lighthouses trace a line dividing river from bay, the entrance to the ocean and what lies beyond. It is a tenuous line of demarcation, as are all things thalassic; it is dependent on the weather, time of day, and, of course, the waters' ebb and flow.
People tend to project their interior visions onto the world and onto others; it is part of our human nature. Indeed key moments in the Western philosophical tradition include Plato's allegory of the cave and its attendant understanding of how ideals structure the way we live in the world, the visionary power of Wordsworth's landscapes, and Emerson's transcendental eye. I imagine that anchored at Kittery Point for vacationing and for writing, Howells savored the distance from the world as represented by open waters; responsibilities, life's travails, and an accompanying restlessness by which no one home seemed satisfactory, were held at bay. Yet, the shifting horizon, signaling that the "heres" could easily be the "theres" must have been favorable; that is, I imagine his person and writing needing the simultaneity of spaces and histories; he could not but always see "elsewheres" from any window. His protagonist Silas Lapham, even upon reaching the high rung of Boston society, knowingly acts according to principles belonging to another world, and he is ejected from the upper class.
In 1960 my parents' plane landed at Idlewild Airport, soon to become JFK. They had taken a train from Calcutta to Cochin, then a ship to Genoa, a train via Munich to Stuttgart, where they stayed for several months, and finally a flight to New York. A post-doc position at NYU waited for my father and, unfortunately, housewifery for my mother who had been a scholar in her own right in Calcutta, before marrying. In the years that followed, my parents, and particularly my mother, remained on the threshold, never fitting in, always at odds with American culture; they were forever poised between old and new worlds. Like so many of her generation who came into adulthood during the post-war, post-Partition years, she had had an arranged marriage. Before long she discovered that her husband was an unkind man and that she was in a cruel bond, the brutality of which was made more stark by her isolation in America and distance from family in Calcutta. This was the era of aerogrammes and Western Union and long before international calling plans, email, Whats App, and frequent flier miles for global travel became commonplace. The more my mother pined for home, the less my father wanted to return, despite his deepest inclinations. In any case, they both died in this country. My father may have had one foot in Calcutta, but my mother also had her soul there.
My sisters and I were raised to live parallel to the mainstream, and according to the understanding that we were less American than our school friends and neighbors. We were taught cultural mores specific not only to our parents' homeland but to Calcutta and, more precisely, to their families' histories. This brand of diasporic sensibility, along with having been witness to—and intensely identifying with—my mother's suffering caused havoc well into my midlife. I zigzagged across the American continent, husband and family in tow, unable to find, literally, a comfort zone to settle down into. Adding salt to the wound, I regularly visited India; relatives drew me there, and since childhood I fancied it as more of a home than my birthplace. I schemed about ways to live there on a longterm basis. This I did even as I realized that my parents would not be returning to Calcutta; their lives had become inextricably tied to each other and to this land. Ultimately, for better or worse, my fantasy of what is essentially a reverse migration did not materialize, and my need to change my mother's trajectory or to have the life she could not, has remained unfulfilled.
William Dean Howells spent stretches of time overseas. These and a past of deprivation and uprooting determined his person and writerly eye on America, as the works and lives of James and Twain were molded by not dissimilar contexts. The double-consciousness of African American writers and of others inhabiting the in-between spaces apparently appealed to his temperament and his vision of American literature.
Personally and professionally, I am invested in narratives by and about women of color. Yet I have not relinquished my love—learned through an American education—for really good pages written by a dead white male author. This past winter I wove the story of my mother and me into Howell's by scanning the same horizons that he did. And I met his eyes in doing so. At the Howells House at Kittery Point, by inhabiting another's place in the world, I found isolation and divisions across time, gender, and race appeared as surmountable realities.
Image: View from Howells Memorial House. Photo provided by the author.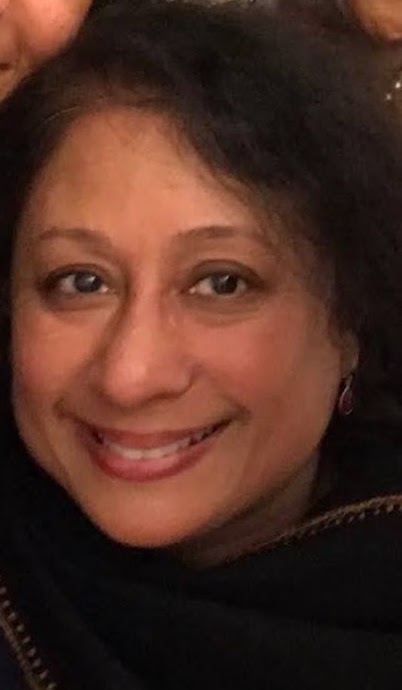 Latest posts by Krishna Lewis
(see all)