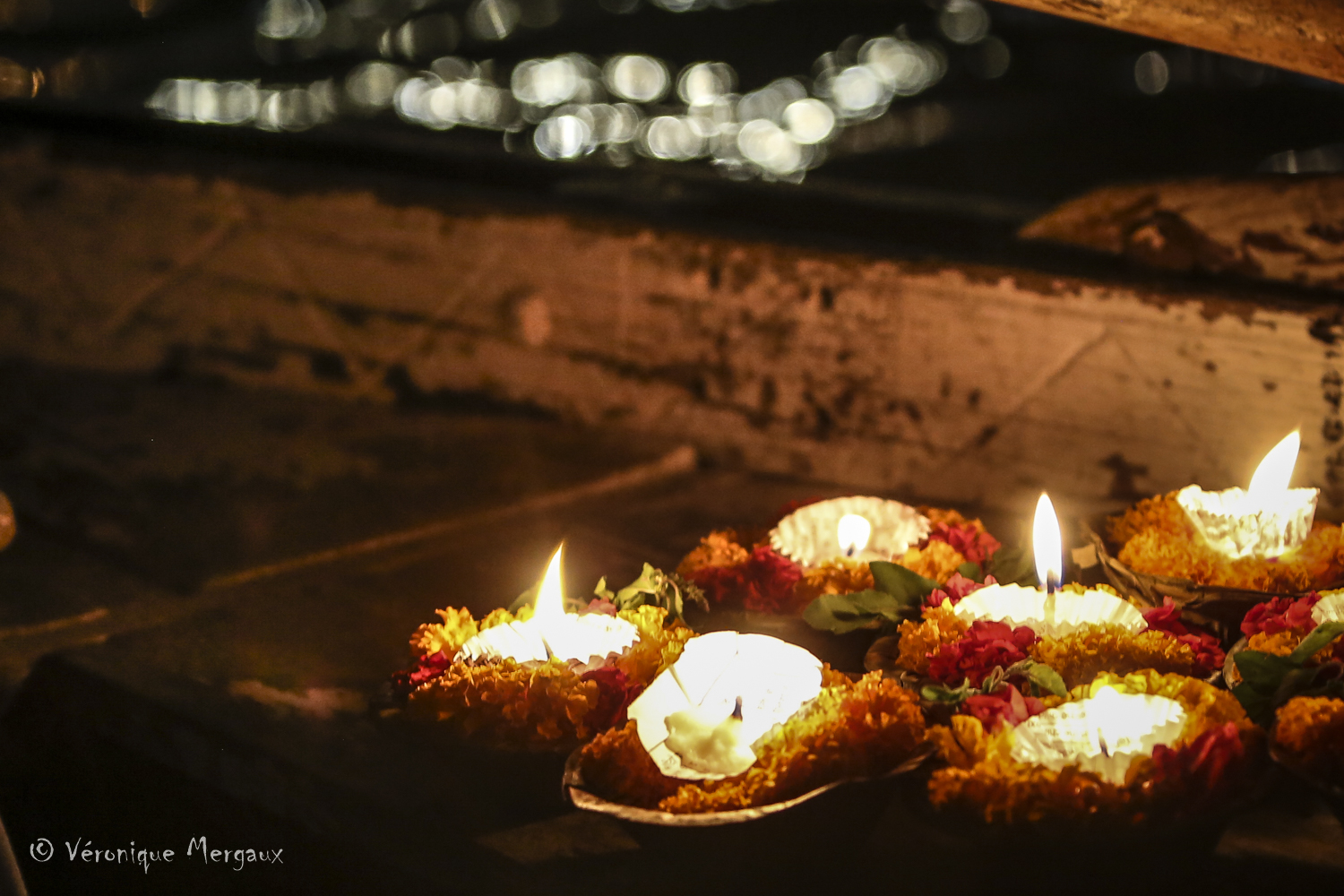 I unfolded the fading black and red dhurrie on the floor and placed my sitar on it. My grandmother shuffled to the sofa, sat and picked up one foot and folded it under the other thigh. I brought her a cup of tea that was already beginning to cool, a film of cream rising to the top. I turned the ceiling fan off.

She blew on her tea. "Gita, I must come with you to Benares."

"Aji, I'd take you if I could." I was to leave the next day for Benares to attend a cultural meeting for medical students, where I was to play in a music competition. I was without doubt the best sitar player in my medical college, which was saying nothing at all. I had told Aji more than once that I couldn't take her, but she hadn't stopped asking.

"So why can't you?"

"I'll travel in a second class compartment, and sleep on the floor in some student hostel."

Aji stared quietly at her feet. "You do know why I want to go to Benares?"

"No," I said, not daring to guess. Aji's mind was ruled more by obsessions than by ideas. I wiped the sweat off my face with the free edge of my grey cotton dupatta.

"Before I die, I must free Ajoba's soul."

Every time Aji remembered Ajoba, my late grandfather, she would lapse back into another time, grieving a life she hadn't known. "It wasn't as it should have been," she said. "If those who love us, leave us, abandon us, we can never be the same. Yet, somehow, we must live, we live, a different life. I believed for all these years that he would return. You know, we had nothing with us, and your father was only ten years old. It was too dangerous to take the train from Lahore. We rode in a bullock cart and the animals died. Then we walked, slowly, for days, with neither food nor water."

This was an old story that lost nothing in its retelling. Sometimes Aji would describe how they sold her jewelry, how vultures feasted until they were too fat to fly, how crows pecked away at corpses and carcasses alike.

"Lahore was once a civilized city," Aji went on. "Your father played outside the ajaib ghar on the zam-zammah, that cannon of polished brass….it shone like pure gold. Then came the madness, farmers sold their life-stock, burned their fields of wheat. We lived through that, we made it to Hindustan. Then, one day, Ajoba went away." She clicked her fingers. "Not long after independence. Just like that, he was gone."
I wished I could take Aji's pain away. What then would she have left? Moth-eaten memory without pain? Dry brittle sorrow without tears?

Aji dabbed her eyes. "He could still be alive, somewhere, an old man. No, he would have found me. I can't imagine that he could be dead. I have fasted and prayed. He must have died, who knows when, or where, or by whose hand. So many years have passed. For my sake, perform the rites for Ajoba's soul." She straightened up as much as her bent and twisted frame would allow, radiant in her nine yard orange sari.

"Aji, why would you want to become a widow?" I asked. Aji clung to the privileges of the married woman, vermilion dot on her forehead, black and gold beaded necklace, green glass bangles. I did not want to ever see her forehead bare.

"I cannot let Ajoba's soul languish. You're too young, you couldn't understand. Ajoba immersed his own father's ashes in the Jhelum. As for your Ajoba, we never had ashes. Here, you have my authority, my permission, perform the rites, and let us be done with this business."

"As you say, Aji," I said.

"I've put this off for too long. Not a word to your father," Aji added in an unnecessary whisper. She had once, and only once, suggested to Apa that he fast on ekadashi, the night that follows the new moon, as a penance for souls of ancestors. Apa had erupted, decrying her irrational mind. He'd left in a rage, and my mother waited past midnight for him to stagger through the door.

I glanced at my watch. I hadn't decided which raag to play at the competition. "It's time for my practice. Bhairav or Yaman?"

"Bhairav," Aji said. "Ajoba's favorite, and perfect for Benares. We have a friend who lives there, a sitar player. What was his name? Your grandfather played tabla for him in Lahore. How they played, till two in the morning! All the neighborhood would listen, with windows open wide on cold nights to let the music in."
"I will play Bhairav," I said. I began to tune my sitar.

"That is good, but first turn the fan on." Aji refused to believe that the rotating fan and moving air disturbed the tuning and undermined any resonance between string and wood. "Ravi Shankar doesn't care if the fan is on. He comes from Benares."

"When the fan is on, I don't sound like Ravi Shankar," I said. "I don't even sound like myself."

I began to play and Aji kept time imperfectly. Over the years I had developed a sense of rhythm that could withstand the enthusiasm of the amateur tabla player.
Maa and Apa came in an hour later, barely beating the traffic. Apa turned the TV on to watch cricket and I put my sitar away. The news in Marathi would be on at 7:30. Then all conversation would have to stop.
"Gita won't take me with her," said Aji. "Benares is a fine place to die. The soul is transported to Vaikunta. Those who desire nothing reach the realms of nirvana. That wouldn't be for me. I have too many desires."
"I don't want to go anywhere," Apa said. "Not Benaras and not Vaikunta. When I come home from work, I like to change into dhoti-kurta." That was not true. Apa often left after dinner to work on a play.
"I had a red sari from Benares, years ago. I'd love to get a new sari," Maa said. "Why don't you get me a sari? A blue one. Silk with zari on it. I'll give you the money." Apa never bought Maa anything, not even a sari for Diwali.
"Don't travel in the train with a sitar," Aji said.
"Borrow one," said Maa. "Or buy one."
"Why buy a sitar? You could easily borrow a sitar in Benares." Apa nodded his head to agree with himself. "We knew a man who made sitars. He could play from his very soul. I heard Guruji play raag Yaman Kalyan in Pune twenty years ago. He told me after the concert that he still dreamed of my father."
"I told Gita about Guruji," Aji said. "Now, what was his name?"
"Devdutta Pandit. No, that's not it. Devavrata Pandit." Apa jabbed the air with his finger.
"The very man!" Aji said and clapped.
"Why do we drink tea on a hot day?" Maa said. "Put the fan on, Gita."
"He must be ninety years old," Apa said, tuning out the interruption with ease born of long practice. "Go see Professor Munshi at Benares Hindu University, Guruji's student. He might arrange for you to meet Guruji. Ask for a blessing!"
"Why ask for a blessing from another human?" said Maa. "He is not a God."
The fan groaned and came to life. "I would borrow a sitar," I said. "Preferably one that stays in tune when the fan runs."
"Guruji is from the Punjab gharana," Aji said. "But a true musician and a womanizer."
"The Punjab gharana isn't classical," Maa said.
"Allah Rakha, the tabla player and his son, what's his name, they are from Punjab gharana," Aji said. "Classical enough for me."
"Why does lineage even matter?" I asked.
"Gharana is everything," said Apa. "How can you have a tree without roots?"
The Benares Hindu University, despite its affiliation with Hinduism, did not support funeral ceremonies. In lieu of a rites and rituals office, there was a referral service. Pamphlets advertised religious solutions for funeral problems, immersion of ashes, and prayers for the recently dead, special prayers for those dead by unnatural means, accidents, murders, and suicides. Overdoses were doubly covered under suicide and accident. The rates were best, no bargaining, extra prayers at no additional cost with guaranteed everlasting peace for souls of beloveds.
I ran into Banashri, a classmate, at the desk. "I lost my father in an accident eight years ago," she said. "A car hit him. I saw him crumple and fall. Hey Ram!"
"Hey Ram!" I echoed. I hadn't known. Oh God. What did one say. After a long silence I said, "I need to perform rites for my grandfather."
"We could do this together," she said.
I doubted that our ancestors had met in any world but I was glad to have a friend in this one to negotiate with a priest.
I then made my way to the office of Professor Munshi of the North Indian strings section of the Department of Music. He wore a crumpled khadi kurta and his long white hair was unkempt. When I mentioned Guruji's name and explained my grandfather's relationship to him, he smiled and revealed a gap between his tea-stained teeth. "Guruji is living history, Father of Sitar, Pitramaha. I was his student," he said. He rang a bell and a woman brought two cups of steaming chai. "When Guruji came here after Partition, he was already a famous man. I've been a son to him yet there are days when he seems not to recognize me. Who knows if he will remember your grandfather!"
He switched on the ceiling fan and leaned back. The fan creaked, wobbled and swished into action, its yellowing blades black at the edges melding into a shade of grayish cream. The breeze unsettled the flies at the table.
"I seek his blessing," I said.
Professor Munshi smiled. "It's not often that I meet a student like you. Are you already a doctor?"
"Not yet," I said. "I will specialize in obstetrics."
"A lady doctor!" Professor Munshi said. "You'll bring babies safely into the world. When will you play sitar? Babies are born at inconvenient hours."
"Sitar was a hobby when I started," I said. "Now I don't begin my day without playing, if only for fifteen minutes. I can then ignore the stress of the suction machine that doesn't work or the patient who won't listen."
"You sound like a bhairagi, seeking, what…. equanimity? Eyes red from opium, happily indifferent. Music does not make one content or complacent. It sows dissatisfaction, a hunger, a thirst that is not quenched." Professor Munshi poured his tea into the saucer and slurped. "You need to transcend yourself, so Guruji says. Tell me now, how can I help you?"
"I need to borrow a sitar for the competition."
"That's easy," he said. "We have several fine instruments in the department."
"Thank you. There's something else, not related to music," I said. "I need to find a priest to help me perform rites for my grandfather."
"That's not unusual," he said. "Everyone who comes to Benares shares that same errand. I'll phone Munnaji, our taxi driver. He knows the priest."
Prof Munshi dialed a number, spoke in a low voice for a few minutes and turned to me. "The priest will be waiting at seven tomorrow morning at the steps to the river. Be ready to leave your hostel at six. Munnaji will be there. In the evening, he could bring you to Guruji's home, say at five. I'm not sure he will see you though. He stopped allowing visitors four years ago after he broke his hip. If he doesn't ask you to sit, you must leave."
Munnaji, the taxi driver, was a well-fed man with oily black hair that stained the collar of his white shirt. He arrived at our hostel early the next morning in a black Ambassador. The sky was still the color of a dark pearl when we drove through the city. The ragpickers were already picking up cardboard and plastic; milkmen bicycled with their cylindrical pails of aluminum strapped on either side; men pushed handcarts holding blocks of ice insulated by jute and sawdust.
Munnaji parked the taxi at the entrance to the inner city, and introduced us to the priest. PappuLal Pandey wore an off-white kurta and dhoti and a large red tilak on his forehead, which established him as a religious-businessman. His graying hair was combed over a large bald spot and his gold-rimmed glasses briefly reminded me of Gandhi. PappuLal demanded money immediately, ostensibly for flowers and baskets.
I reached into my purse when Banashri put her hand over my wrist to stop me. She said to him, "Get whatever you need, we'll pay later when we return to shore."
PappuLal sniffed and walked ahead with Munnaji. We followed the men down an alley crowded with walls that leaned into each other. We deposited our slippers at a little shop and walked up to the wide riverfront at the Dasashwamedh ghat.
Munnaji hailed our boatman, Harish, who waited with his oars at rest. Despite the horizontal stripe of ash on his forehead, he had the look of a villain in a Hindi movie because of his black mustache that spilled over his cheeks.
The mist was thick and we could not see the other bank of the Ganga. Harish rowed effortlessly, and changed direction mid-stream with no obvious cue. We were surrounded by an envelope of white air, no north or south, no east, no rising sun in sight. He told us that his father, as his father before him, ferried pilgrims across the river. Times had changed, and Harish had also a job at an office. Floating past our boat was a tiny lamp of baked terracotta containing a little oil and a wick of cotton, its brave flame surviving the wake. The river flowed gently in her own time, dragging along a few stray garlands of marigold.
PappuLal told us that he was descended from a long line of priests, and the only one of his generation to follow the family tradition. His children would not become priests. "There could come a time," he said, "when there will be no priests to perform rites. What will become of souls then? Would they wander endlessly?"
I kept my eyes on the river, and wondered why the souls of the dead depended on skeptical grandchildren for salvation. We reached the other bank at a shallow area reserved for bathing and cordoned by stakes of metal and ropes of coir. There were a few men dipping in the water, heads under for a few seconds. "Leave your bags in the boat," the priest said. "Jahaan dharm hey, wahaan paap hey." Where there is dharma, there is also sin.
Banashri stepped into the mud and held a hand out. I hesitated and clumsily swung myself into the shallows. The water was warm for November. We walked together into the marked area, holding hands to support each other. Banashri dipped twice and said, "I promised my mother I'd do this for my father. I have five brothers she couldn't be bothered to ask."
I loosened my hair and dipped in my turn. The water lapped over my ears. I went under with eyes open. Little black fish swam between the strands of my hair. I thought of my lost grandfather, stuff of legend, a freedom fighter, now finally dead to Aji. I barely believed half of what she said about him. I dipped for the death of filial love for my biological parents, surrendering that first abandonment, they were people who had never really existed. I dipped again for dead love, for the man I'd dared to love, who so quickly forgot me. Ganga, primal mother, I chanted, wash me pure, drown my sadness. I lingered with my head below the surface till Banashri tapped my shoulder.
We emerged from the water, took our clothes from the moored boat, and entered a changing area open to the sky, with screens of saris suspended between poles of bamboo tethered with ropes of coir and nylon. The sun appeared through the mist looking like the moon. We wiped away the sacred water, changed into dry clothes, and returned to the boat.
PappuLal had spread a thick sheet over the baseboards of the boat, and arranged two separate trays. We slipped on rings fashioned from blades of dried kusa grass to mark the beginning of the ceremony. PappuLal dipped a clay pot into the water and poured a little on each mound of wheat flour. "This was normally a man's job but these days so many women perform rites," he said. "I have come to accept that. Now, bind the flour firmly as you would atta for chapatti. Make three large balls and three small ones. Each ball represents a dead person. We pray only for the dead, and we pray only for those related by blood or marriage."
My prayers might do nothing for the soul of a man, who, for all I knew, might still be alive. We arranged the lumps of dough on a leaf, and decorated each lump with burnt rice, sesame seeds, sugar, flowers, turmeric and vermillion powder. PappuLal did not hold with silent prayer or meditation. He had us repeat after him the names of the principal beneficiaries, the family names, the stars they were born under to ensure that the merit of the ceremony was credited to the appropriate accounts. For Banashri's father, he said an additional prayer, a traumatic death merited extensive healing. He poured Ganga water three times into our open palms to drink. I swallowed the water as instructed before I realized what I was doing. The river carried waste of every sort, with the admixture of half-burned corpses. I faced the prospect of a life-threatening illness and found little comfort in the promise of instant nirvana.
"The prayers are over," PappuLal said. We released our leaves with decorated dough and flowers into the water, and watched them float away and disappear. "Feed a poor Brahmin to satisfy the soul. Would you like to pay for a year's satisfaction? Or five? As we say in Benares, there is no limit to generosity."
"I thought the soul would be liberated forever," I said
"Liberated, yes, but not fed," PappuLal said.
"I said we would pay for the service," Banashri said. "You want more money?"
"Only if you want to feed the soul."
"We shall feed orphans," Banashri said. "We were lost in the puja until you talked about money."
"There is no need for anger," PappuLal said. "Give only as much as you please. As for orphans, feed them by all means, but never let the souls of the dead want."
Munnaji and Harish, who were chewing paan, betel leaf and nut, returned to the boat, and we pushed off for the home shore. Paan made for the kind of bliss that cud-chewing cows enjoyed, but the paan-chewing man lost some of his dignity when he spat. Munnaji spat the blood-red remnants of his paan into the water. The stain spread and vanished. Where there is paan, there must be spitting.
"I would have tipped the priest if he hadn't asked," Banashri muttered.
How would giving PappuLal money be good for a dead man's soul? I wanted to believe in something, the goodness of the river perhaps. I was restless, agitated from hearing a priest and a supplicant squabble, greed meeting grief, leaving nothing, not even a sense of accomplishment.
"Benares is best seen from the river," Harish said when we returned to the ghat. "We could come back at dusk for the aarti, when you can listen to the singing and watch the lighting of lamps. And I can take you by motor boat to Assi Ghat where Maa Durga threw down her sword, exhausted as she was from fighting two demons."
Durga! I would play raag Durga in concert. It was a raag I had practiced for years, one I could play in my sleep. Durga was the mother of all the Gods, a creature of light. She decapitated demons and vanquished evil. I envied her power and her courage. As a child I had been terrified of her open mouth that dripped blood into an empty skull.
Munnaji dropped us back with a promise to pick me up later in the afternoon to visit Guruji. I left the car feeling suddenly tired, wiped out. A gurgling in my stomach and a little cramp in my belly that followed soon reduced me to a creature of bowel and flesh. I spent the better part of the day in the lavatory, the squatting kind, before I ended the flux with pecto kaolin that Banashri supplied.
"Ganga water is holy, not clean," she said. "You have been purged of your sins and sorrows! You have acquired not only merit but immunity to several waterborne diseases."
I had a bucket bath with tepid water and wore a pale green Calcutta silk sari. It was the color of raw coffee seeds, with a magenta border and I knew I looked good in it. Munnaji drove me through small streets, stopping for trucks, honking at buffaloes, cyclists, and even at a funeral procession. He would look for me in an hour, he said with a shrug, and added that waiting charges were not included. I shrugged back. I wouldn't pay him to wait. I walked through winding streets too narrow for the better-fed elephant, past flower sellers, and got barked at by a street dog.
It was almost five when I stood at Guruji's door. The electric bell at the entrance had been partially eviscerated. Red and black wires, possibly live, dangled at the switch to electrocute the unwelcome visitor. I knocked. A man with white hair reddened with henna answered. "What do you want?"
"I have come to see Guruji…"
A voice called from within. "Ask if she is the doctor."
"Are you a doctor?"
"Yes. I was told to come here."
Professor Munshi came to the door. "Your good name again, please? I forgot!" He was still in the same kurta and dhoti, more creased if that were possible.
"Gita. Gita Ranade."
"Yes! Guruji will see you." Professor Munshi opened the door wider to let me into a dark living room.
Guruji sat in a reclining chair, his feet propped up on a stool and covered with a dark woolen blanket. He had bushy eyebrows, long hair and a white beard. "You may sit down," he said after appraising me.
Bending over his footstool, I extended my arms, closed my eyes and touched his feet. A surge of veneration swept over me. "May I have a blessing?"
"You have all the blessings I can give," the old man said, flapping his hands in a shower of benedictions.
"My grandmother asked me to see you. My grandfather played tabla back in Lahore."
"I don't hear well. Speak up." He did not shout.
"Back in Lahore, my grandfather played tabla for you. Tabla." I mimed with my hands in the air.
"Tabla is not a musical instrument," he said.
"My grandfather was your friend." I repeated his name and saw no recognition.
"I had many friends, most of them are dead. I've lived too long. Last year I broke my hip." He looked at Professor Munshi as if to confirm, and stared pointedly at the servant. "Get us a drink, it is past five. Chai for the lady, she is not a drinking woman."
Turning to me, Guruji said, "Do you play tabla?"
"No, I play sitar."
"Good, I also play sitar, we have that in common. I made sitars that could sing."
His drink arrived, a tall silver tumbler half filled with whiskey watered down with ice. He took a sip and said, "Less ice and more whiskey, please. What have you given me? Only Munshi would drink this!" He returned the glass to the plastic tray the manservant held in front of him. "Munshi, didn't you say that a doctor was coming to see me?"
Professor Munshi put down his glass in a hurry, wiped his hands on his kurta and put his palms together.
"She is a doctor and she plays sitar."
"Both!" the old man said and snorted. He cleared his throat and spat into a small cup that magically appeared before his mouth. The manservant put the spitting cup away and put the whiskey glass back in Guruji's hand. The drink looked as it did when first presented, no darker. "I have spent a lifetime doing just the one. What kind of doctor are you?"
Before I could reply, he turned to the manservant who returned with chai for me. "Close the windows before they start the aarti. Torture for one who loves music."
"Do you like the tea?" Prof Munshi said.
"Something to eat with it?" Guruji asked. "Dharampal, what is his name?" He looked for the hapless servant lurking near the big window. "The doctor will take biscuits with her tea."
The manservant shook his head and said, "We don't have any. You said we weren't to serve biscuits."
"Munshi!" Guruji said. "This doctor is our guest. Bring her some rossogollas. Make sure they're fresh. Last week someone got me a can of rossogollas. Rossogollas in a can! What will they think of next?"
Professor Munshi left without looking at me, and the door shut behind him.
"Your last name is Ranade?" Guruji said. "Shall we speak in Marathi? You will save some lives, and kill those you fail, haan? What will happen, Doctor, when I die? All this talk of rebirth and heaven. Stories, for children. People are afraid to die. What do you think?"
I hesitated for a minute and said, "There is nothing ahead. Ashes… it's all here. In this one life." I blurted my truth, free not to pretend to believe in an afterlife.
"No one should live this long. I can't go to the bathroom on my own. Now if a cow were in my position, old, broken hip, they'd sell it to the butcher for bones. Make something with the hide." Guruji continued to mutter, half to himself, "Why should I go on? My bones hurt, and not just the ones I broke. Why doesn't Yama come?"
I tried to look professionally calm while I wondered what to say. Yama plucked away indiscriminately at young lives and hadn't found his way to the hearth of one so ready to die.
"We live as long as God wills." I repeated a platitude often used to placate relatives of sick patients.
Guruji raised his voice. "There are two secrets to a long life: Whiskey every day. From a silver tumbler. I only use Ganga water in my whiskey. Dharampal boils the water, even when I tell him not to. It's essentially pure even if it doesn't look like it. If you took the dirt away, it would be pure. Like the soul.
"The second secret," he said, dropping his voice and forcing me to strain my ears and lean forward. "The second secret is celibacy. I promised my father. I could never break that vow. I have been tempted, you know that man is merely an animal with clothes. Celibacy without the whiskey doesn't work. Whiskey by itself is just as useless. Do they teach you that?"
I nodded, wondering how I could escape. There was nothing to be had.
"I sleep on arrows, my back hurts," Guruji went on. "When can I return to my mother? My body cremated, ashes in the river."
Professor Munshi returned to the living room, his arms weighed down by brown paper packages containing sweets.
"Munshi, where did you go? Pull out a sitar! The one on the far left would be good for a woman. The doctor will play for us."
Professor Munshi opened a cupboard and brought a sitar to a threadbare red rug on the floor. He placed it beside Guruji's chair.
"What would you like to play?" Guruji asked.
"May I play raag durga?" I said.
"Yes, durga is good at any hour." Guruji leaned his head into its long neck, and plucked the strings and tuned.
I sat cross-legged on the rug and picked up the sitar.
"Stop!" Guruji shouted. "The sitar is an object of worship."
I put it back down, touched it with the first two fingers of my right hand, touched my eyes with those fingers and lowered my eyes. Guruji grunted.
I checked the tuning; it was perfect.
"You found the tuning satisfactory?" Guruji said. "I checked the strings myself."
I lowered my eyes again and said, "May I play?"
"In a minute. When you play durga, or any audawa raga," Guruji said, "try and think of a stream of melting snow rushing down a mountain slope. There are five boulders to help you get across. You have to be sure-footed and strong, or you could be swept away. Which tal?"
"Rupak?"
"Rupak! Seven beats…..yes. Munshi, you think rupak?"
"More interesting than teen tal," Professor Munshi mumbled. He had rediscovered his whiskey and appeared to be talking to it.
I plucked the strings softly, unsure of myself.
"Wait!" Guruji said. "Come closer. I can feel better than I can hear."
I moved closer to Guruji and turned to let him touch the high end of the instrument with his right hand. Its base was big and heavy with a neck no wider than my own sitar at home. There was nothing ornate about it, yet its sound was deeper, richer, more resonant than any sitar I'd ever heard.
"Let me hear you play the scale. You know the notes?"
It was a lot harder than I expected. I tried to please a cranky old man with impossible standards.
"Easy on dha, gentle, let it slide from sa, and hold it," Guruji said. "Ma and re don't move a hair. Not shuddha saveri! Less passion, more control. Play!"
I played the alap slowly. I moved to jor alap once I got used to the instrument, and Professor Munshi kept time with his hands. I finally picked up the pace, closing my eyes to hear. I played better than I could, and soon I was unaware of the room, unaware of Guruji. I stopped hearing the music, stopped feeling the strings. I stopped being Gita, I surrendered to Maa Durga. She found a sense of cold purpose, ruthless drive, she summoned strength and fought fear and fatigue. She mustered fury and restrained it, wielded the sitar like a sword, a touch, a thrust, assaults on evil forces, emotions stilled. I opened my eyes to see Guruji's face wet with tears.
"You brought Durga Mata here," Guruji said. "Now, summon Yama if you will. And let me wish this for you: May all your desires be fulfilled, and may all your desires be worthy of fulfillment."
I stood up and folded my palms, lowered my head till it reached my hands.
"Let me give you another blessing: immortality. Something you'll want until you grow so old. I will die soon. So I've decided," Guruji said. "I will recite the thousand names of God, for Munshi, for Dharampal, that they may hear.
"I've never forgotten you," he shouted suddenly, glaring at me. "I know why you're back! You've returned to kill me." He dropped his voice. "Forgive me, I made a terrible mistake, it was another life. A foolish old man begs forgiveness." He reached out and grabbed my wrist and squeezed it.
"I would never hurt you," I said, trying to pacify him. How could I ease his suffering, bring him a modicum of solace? What did one do for the living?
Guruji looked at me, calmer, his eyes filled with sadness, regret. "Ganga has forgotten her son. I ask you for a favor. Go, send a lamp down the river, ask my mother to take me back." His voice petered out and the aarti began at the ghat and filled the room with booming sounds of drums and cymbals.
I held his hands, kissed his fingers and picked up my bag.
"I suffer the aarti every evening," Guruji said. "Even with the windows closed, I hear every false note. I should take off my hearing aids." His fingers fumbled and an earpiece fell onto his chair, rolling into the recesses of overstuffed cushions.
Professor Munshi saw me out.
"I will need a sitar for the competition tomorrow," I reminded him.
"I haven't forgotten."
I walked into the crowd at the ghat to watch the last of the evening prayers, the aarti, where priests held large oil lamps while dancing in white dhotis and bare chests with only the sacred thread worn over a shoulder. Om jaye jagdisha hare. The well-worn tune inspired uncommon courage in the lay person who joined in the singing.
Harish the boatman stood at the edge of the crowd, where he chewed paan with Munnaji. "Let's go to Assi ghat before it gets dark. My boat is ready."
"Let me buy a lamp first." I picked up a small lamp half-filled with oil with a cotton wick from a wayside stall. The shop keeper lit it with a match.
We rowed past a series of ghats descending from crumbling mansions on the riverfront. Pilgrims were bathing, men were washing clothes in the fading light. The milkmen rinsed their cylindrical pails in the same water. An empty coconut shell bobbed past. We turned around at Assi ghat and headed to Rajghat on the Southeast end, past Manikarnika ghat where people waited to die. I counted seven burning pyres, stony grief carved on the faces of mourners. Shiva was there, and Yama, and the name of Rama was the truth. There was no higher virtue than Truth. So it had always been, so it would be forever.
I sent the lamp of red clay with its little flame into the Ganga with a prayer: Mother, bring your son home.
We passed a bloated corpse in the water, very dead, skin macerated and white. "Which way does the river flow?" I shuddered.
"East," Harish said pointing. "You bathed upstream, on the other shore."
"I know a good sari shop, fair in price," Munnaji said when we reached the steps. I was sure he worked for commission. "The car is parked close to it."
"Let's go there now." I picked a peacock blue sari for my mother, dark silk accented with threads of green and purple and gold.
Professor Munshi sent for me the next morning to lend me his own sitar, one Guruji had made. He escorted me to the hall and sat in the center of the first row. The audience was restless and showed no signs of settling down. I could barely hear myself play with the ambient noise, and I could not lose myself. I tried to go back to Guruji's living room and play as I played for him. Nothing. I had nothing to give. The clean notes sounded mechanical as I traversed the scale, easy on the dha, ma and re moving not a hair. I nodded to signal a stop; the tabla player, a solid accompanist, nodded back, waited a split second and ended with a quick flourish.
An hour later, I collected first prize feeling hollow. I said to Professor Munshi, "I played better yesterday."
"You were not inspired today," he said. "You know intuitively what cannot be taught. Guruji has instructed me to give you the sitar you played on at his home. He said he'd been saving it for you. It was the last one he made. Munnaji will bring it in a case to the railway station."
Aji was alone when I returned home two days later. "Aji," I said, touching her shriveled feet, "Ajoba's soul is free. The priest, PappuLal, ate well for Ajoba."
Aji smiled. "That was a good thing you did, sheer punya. You have come home with a sitar, I see. You met our friend, the sitar player?"
"Guruji? Oh yes! He said he'd never known in his life a tabla player as good as Ajoba."
Aji clapped her hands. "They were such dear friends."
"He said you were the most beautiful woman in Lahore," I said, and added in a tone that invited confidences, "Was he in love with you?"
"Silly girl, you say such outrageous things. I remember a young woman who was in love with him but he was cruel to her," Aji said. "She died, I don't know why, and he never did marry."
"Guruji gave me a blessing with this sitar. And he said I shouldn't play with the fan on."
Aji laughed. "You just made that up. Did you buy your mother a sari?"
"Of course," I said. "Let me show you."
"Later. After you've eaten. I dreamed of you. In my dream you were sick and I prayed for you to recover."
Aji slipped off her bangles and her mangal sutra of black beads. She was free at last from the oppressive weight of the shadow years without Ajoba. She smeared her kumkum with the back of her hand, pulling a red streak across her forehead. Then she began to sob, shocked awake and swept by rude waves of latent grief. "What has happened! I am now a widow. How will I ever bear such sorrow? Oh, Gita, I am so tired. I could sleep now and never wake up."
I wrapped my arms around her, rocking her gently until she was spent, and I waited quietly at her bedside until she fell asleep.
Image: "3W6A5418" by Veronique Mergaux, licensed under CC 2.0.
Latest posts by Shanti Thirumalai
(see all)