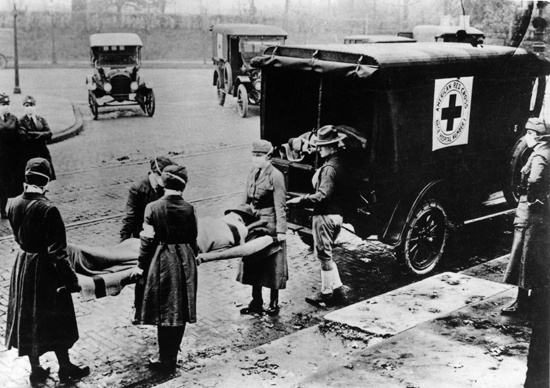 Dearest Olive:
Once more I am going to the country club with Ernest Vogt, but there are about two minutes before he comes for me. We paraded through Louisville this afternoon (my battalion & me) along with a mounted battalion of the F.A.R.D[1].. . . as part of a parade to boost Liberty Bonds. It was my first parade, and I was quite enraptured with it. The "Boy Scouts" (which is the name my platoon has been given by the rest of the battery) led the way, and it was quite gratifying to hear such remarks from the curb as "Best line I've seen yet." or "They're a clean looking bunch of little fellows." . .
I have to be back at camp at 8:30 tomorrow morn for a fool medical exam which I took at Fort Jackson, but which I have to take over again —such is the way of the army (our papers were lost I think.)
Now I must away. I wish I were going to see you instead of going to the country club. But I am looking forward to seeing you at Thanksgiving. I wonder if it will be here or there….
Good-bye, my very Dearest,
Gil
[1] Field Artillery Replacement Depot
This message, dated September 28, 1918, is one of a collection of 171 such letters that Gilbert Robertson Glorieux and Olive Mortimer Remington wrote to each other over a period that encompassed a world war and the last truly global pandemic.
The letters nearly went unread—they moved directly from my parents' basement in Urbana to mine in Cambridge in 1984 when my parents died, and in 2017 I was going to throw them away. I was intrigued, though, by the three-cent stamps and addresses that suggested a time when just a name and a town was sufficient to find someone (like "Gilbert R. Glorieux, Springfield, New Jersey" and "Olive Remington c/o Robt. Gemmell, Salt Lake City, Utah"). More than that: Olive Mortimer Remington was my mother. Why had she kept these letters so many years? Who was this Gil?
My curiosity aroused, I removed the letters from their envelopes, arranged them chronologically, and started to piece together the story of a love affair that my mother, while alive, had never hinted at.
It began two years before the letter above, in Freehold, New York in 1916, where Gil met Olive at a sledding party. She was a freshman at Vassar and he a junior at Princeton. For a year, the letters show Gil struggling with Virgil and Cicero, and Olive concentrating on writing and directing the Sophomore Show.
Then, in the spring of 1917, war made its appearance. Gil, distressed by Woodrow Wilson's failure to come to the aid of France and England, joined a group of Princeton men who went to France to serve in the American Field Ambulance Corp attached to the French Army. In letters from France he writes of wild carriage drives through Bois de Boulogne, the delicious petits gateaux in a little village — and the war:
The ruined town below us… looked for all the world as though it was painted on canvas, and the flashing of the shells, was like some imaginative stage manager's production, while the queer light of the dawning day made you all the more sure it was not real.
But it was real, and men were dieing there in horrible strangling death, with these infernal shells landing all around them. They deserved it I suppose, for they started all this sort of thing, and it is simply their own work being turned against them, but for all that I felt very sorry for them. I wish our army would not use any gas.
Olive's letters give a glimpse of the home front. She wrote about college life, collecting money wearing a Red Cross uniform on the trains between New Jersey and New York City, and her summer as a counselor at a Welfare Camp in Peekskill, teaching swimming and leading New York factory shop girls up mountain trails.
In November of 1917, Gilbert returned from France determined to contribute more to the war effort by joining the U.S. Army Aviation Service. He was also intent on seeing Olive and in anticipation of Olive's Christmas vacation he wrote from his parents' home in Springfield, N.J., December 17:
When I came home, Olive darling, I felt that the trip would be a thousand times repaid if I could see you for a day or two. And now I'm going to see a lot of you for three weeks, and see you occasionally for a long while after that. The Fates are good to us, Olive, —good to me at any rate. And before you go back to college perhaps—but we must wait and see. Olive, my love, it would be impossible for me to fall in love with someone else—I would feel as though I were tied to a post; perhaps a fine straight marble post, but it would be the same nevertheless. No one else in the world could ever make me feel that she understood as you do. No matter what you decide, Olive, and no matter where I shall be in after life, you shall always be the girl I love.
Gil
There is no account of that Christmas vacation, but surely it lived up to Gil's anticipation as they became secretly engaged. Olive wanted the whole world to know but Gil knew his parents would not approve. He was twenty-two and had yet to receive his bachelor's degree or prepare for a profession.
They didn't have much time together during the coming months, for in late January Gil was confined to bed rest with a weak and enlarged heart and a bad case of jaundice— "I'm as yellow as a daffodil," he wrote. In February, Olive had an appendectomy and spent a long time in hospital recuperating and then had to catch up with schoolwork.
The war continued, as did Gil's desire to be in it. By May his heart settled down. He took the medical exam for aviation and failed it, but he managed to talk his way into the Artillery and was ordered immediately to Fort Jackson, S.C. for training. Olive spent the summer of 1918 in Salt Lake City visiting her Aunt Belle Gemmell, a physician, and her husband, an engineer in charge of the big copper mine. They wrote daily; the letters, carried by the continental railroad between boot camp and the Rocky Mountains, show a couple deeply in love. On July 21, Olive wrote from "Brighton," Aunt Belle's cabin in the mountains:
Gil belovedest,
You're here tonight—almost really—The whole canyon—it widens out to a valley here, nearly a mile across—is white with moon light. The tall skinny firs seem sky high along side our cabin—and the mountains look Oh so climbable. We'd go up the Twin Lake Trail, You & I, if you were here. It's a wide trail, cut out of the side of the mountain —sheer drop to Silver Lake (in our back yard) on the east of it—so we'd be in full moon light all the ways—From the top of the dam, at the head of the lakes, the valley is hidden—and you look straight across to Mt. Majestic—it seems near enough to pat. We'd build a fire up there to keep us warm after our climb. Then we'd come down slowly.
It makes my throat ache—just writing about it, Gil. I think we're going to love each other a very great deal as time goes along. I looked across the eastward mountains tonight—and wondered whether you were loving me…
I'd not burden you with loving—for anything in all the world. Do you see that I worry about that sometimes?
Goodnight Dearest,
Olive
Gil's reply, from Columbia, S.C. on July 29:
My Dearest Love:—
You wrote me a beautiful letter telling how in your dreams, we climbed the mountain trail in the moon-light, and then you said you would not have your love a burden to me. No, Dearest, you would not, and you could not if we lived to be a thousand years old. I love the moon light on the mountains, the wind in the trees, and the broad blue sky, but more than these, my Darling, I love you. You are to me all that there is to live for —Do you think your love can be a burden to me?
Some day, Heart of Mine, Some day I will come back to you and then —it doesn't matter much where we are —we shall be happy. And there are so many things to do together and so many places to visit —but all that really matters is that we'll be together.
Good-night My Love,
Gil
That "someday" kept getting delayed by the army. After Gil finished basic training, for a short time he was an instructor in typography at Fort Jackson and then was transferred to officer's training at Camp Zachary Taylor in Louisville, KY.
It was from Camp Zachary Taylor that the letter came that I opened with, from September 28, 1918. Its date is significant. On September 24 the Louisville newspaper had reported that more than one hundred soldiers at Camp Zachary Taylor had come down with influenza. A day later the number had climbed to 262. By the end of the month 2,100 were sick. On the 27th of September the camp imposed a partial quarantine, prohibiting soldiers from entering theaters, restaurants and public places.
The quarantine did not stop either marching or country club gatherings, however, as witnessed by Gil's letter. It was only three days later, on October 1st, that Gil wrote:
Olive Dearest—
Hark to my woeful tale —I have the "Flu". I was taken sick yesterday and sent over to this emergency hospital with Hollister, a man from my battery. We were lucky enough to get bunks together, so we console each other.
I have a very light form of it —not at all serious —so you are not to worry. It's a nuisance that's all, for we have to stay in quarantine for seven days…
Olive Darling don't be alarmed if you don't hear from me for a few days. It is sort of hard to write in bed; You know I am always thinking of you anyway —and loving you with all my heart.
Good-night my Dearest.,
Gil
Never wanting to give Olive cause for worry, Gil wrote a cheerful note from the hospital, on October 3rd, 1918:
Olive Dearest—
This morning I was dozing in my bunk when a corporal arrived with a bucket of water, a cake of soap and a towel. "Hello", said I. "Going to wash the floor?"
He looked at me scornfully and said, "Wash your face!"
I protested that I had already washed my face, but he said the order was that number 22 was to wash his face.
So I washed vigorously while the corporal sat on the end of my bunk and eyed me critically. When I had finished I did it all over again, because he still looked so critical.
At last I asked him if he saw any improvement. "Not much," he said shaking his head mournfully, "but if you was to get a shave you'd do all right."
So I did shave off my long black beard this afternoon, and now I feel quite fit. I am improving at a great rate, and hope that I may be allowed to go back to my battery in a few days. If I can get back before Monday I am quite sure that I need not loose any time at the school.
The saddest thing about being in this "hospital" is that your letters are over at the battery, and they are not allowed to send them over. But what a lot of them there will be when I get back!
I have been dreaming very nice dreams of you, Olive Dear, and all the wonderful things that are going to happen some day.
Good Night Dearest,
Gil x
Many of Olive's letters did not survive but the one from Vassar of October 6th did:
Gil dear,
I'm sorry not to have written —We've had a bad time here too. Winifred Adam (she was the very tall, pretty girl —you met her in the Grand Central) grew worse on Thursday, and Friday night we knew there was no hope. She fought hard —but it was the most severe kind of pneumonia and she didn't live thru the night. It's a rather impossible thing to believe —Here she was —in her room last week —and gone entirely now. Her Mother has been wonderful —I've never seen such calm bravery. We're going down to the service in town this afternoon so I'll mail this on the way.
Jet is much better —they don't think she has pneumonia after all. The doctors here have things pretty well in hand. All our colds are well, or getting well.
I had no mail yesterday —I hope that doesn't mean you're worse, Dear. I've been very anxious—
Dearest love to you,
Olive
On October 10th, after receiving Olive's letter, Gil sent a Western Union Telegram:

LOUISVILLE, KY TO MISS OLIVE REMINGTON, VASSAR COLLEGE



VERY SORRY TO HEAR OF WINFRED ADAM'S DEATH. ALSO SORRY 
TO HEAR THAT JET HAS BEEN ILL. HAVE BEEN MOVED TO THE BASE
HOSPITAL AND AM MORE COMFORTABLE. HAVE BRONCHITIS AND THERE
IS NO DANGER. HOPE TO REJOIN MY BATTERY IN FIVE OR SIX DAYS. 
DO NOT WORRY. WITH LOVE GIL

On October 13th, Mortimer Remington, Olive's father, sent a Western Union Telegram to Olive at Vassar College.

GILBERTS FAMILY HAVE GONE TO LOUISVILLE TO TAKE CARE OF HIM.
HE HAS PNEUMONIA
FAMILY WILL KEEP ME INFORMED AND I WILL IMMEDIATELY INFORM YOU.
FAMILY AT SEELBACK HOTEL WILL ACT AS NURSES
YOU MUST NOT THINK OF GOING
MAY REMOVE HIM TO PRIVATE HOSPITAL FOR SPECIAL CARE

On October 14th, a telegram was sent to Major Remington Pier 2 Hoboken, N.J.:

GILBERT DIED SATURDAY MORNING. TELL OLIVE. JEAN GLORIEUX

Letters of sympathy and love came from Olive's mother and father, from classmates and teachers and Henry Nobles McCracken, the president of Vassar. The obituary for Gilbert in the newspaper "The Sunday Call" of Newark, N.J. ended:
Mr. Glorieux and Miss Olive Remington, daughter of Mrs. Mortimer Remington of 312 Belleville Avenue, this city, were engaged in marriage, and it had been planned to make formal public announcement of the engagement next month.
I suspect Jean, Gil's older sister, was a confidante of the young couple and was responsible for the last paragraph. A few weeks later Jean wrote to Olive:
On Saturday I mailed a little box to you & hope you receive it all right.
It is a ring which I had made for you from one of Gilbert's cuff links. I thought you would like something you could wear and he used his links so constantly I wanted you to have one.
I wonder what happened to that ring and I ponder the sadness of Olive's last year at college. She struggled with Gil's death and sometimes tried to find solace in writing letters to him, perhaps because letters had played so great a part of their relationship she found it a way to hold on to him. The last one I found was written January 16, 1921, more than two years after his death.
Gil dear,
I'm crying—over the kind of person I am, because it isn't as you would have me. I'm ashamed of me, and the things I seek & want & do, and my failure to do anything that might make you glad, or make you love me. It's more than ashamed, it's afraid, and desolate, Because I want you—I want so to have you still love me—and I don't see how you can.
And I think my belief that you're still you—living isn't a much thought out belief—I think of you so, because I can't bear not to—And I wonder if you've grown very far ahead, away from me.
Oh my Dear, everything fine I want to be, or to do is tied up in you. it isn't just that I cling to you, the memory and thought of you, because you were my happiness—but because—It is your ideals, and love that count. I think you'd be glad— if you still care—if I could have your kind of happiness here. Oh I'm weak, weak, weak. Oh only to know you care, now, when I don't deserve it and want you so. I must stop being sobbey—and sorry for myself. I'll try and be a good sport and an always strong lover, but it wouldn't seem much use if it weren't on your account. Ohh Gil, love me if you can still.
Olive
In 1922, Olive, now 25 years old, went to Europe and in Paris met 28-year-old Marcus Selden Goldman. Marcus, like Gil, had served in the French ambulance corps. He'd stayed on to study in France and write for the New York Herald Tribune. Mama told us children that she and Papa fell in love on first meeting. I am the youngest of their four children and am glad that Olive, who loved Gil so much, found another man, my father, whom she could love as well.
At Camp Zachary Taylor, in Louisville, where Gil was stationed, 22,000 cases of the flu were reported in October 1918 and nearly 1,500 soldiers died. Estimates of deaths worldwide were over twenty million. The Great War ended, the nations were exhausted and the allies wanted only to celebrate victory. They knew not where it came from, nor how to fight it, and chose to try and forget it and hope it would never return.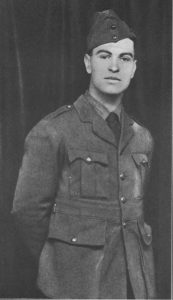 Image:  (Top)"Caring for Spanish Flu Victims," British Red Cross Archives, licensed under CC 2.0.  (Bottom) Gilbert Glorieux, obituary photo, provided by the author.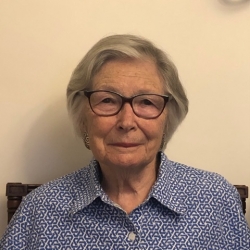 Latest posts by Olive Malcolm
(see all)