There are moments of stillness and moments of motion. The evening of my arrival in Chisinau, I take a slow walk down the frozen city streets, past a kitchenwares store, a bookshop, and a market with sausages and imported chocolates illuminated in the window. I reach as far as an Orthodox churchyard, but it is dark and the sidewalks are black ice, so I double back to the hotel. Every first night in a new place starts like this: with a walk and a half breath.
I'd come to Moldova for work, but driven by a yearning for stillness. Back home, too much speed had led to a skiing accident and knee surgery, and during my recuperation I missed public hearings on a major development project that turned my home's views of trees and blue sky to concrete. All the knee aches, the heartache, the loss of control meant I spent afternoons in the office meditation room, sitting on the floor with shuddering sobs.
So, Chisinau in January, for a five month assignment. I'd brought a camera here, and a watercolor set, but the gray of mid-winter Chisinau manages to not even be charismatically ugly enough for art. Before my departure I had hunted for writings on Moldova, and found Anne Applebaum: "Kishinev had always lain on the edges of empire…. however, none of Kishinev's rulers had ever thought enough of the city to make it beautiful," she wrote, in the early 1990's.
The daylight walks in my first weeks bear out her assessment: a mixture of 19th century houses that survived WWII bombing, an enormous Soviet circus, and phone stores blaring EDM. Incrementally, more cracks in the Parisian-wide sidewalks emerge as the ice drips away in early March. Overhead, tramlines spark, and the one microbus I dare take is so crammed that a stranger offers to hold my handbag on her lap.
There are other small wonders though. Like watching grandmothers sprint across glaciated paths to catch the tram – remember, my co-worker Diana says, they've had a lifetime of practice. Wonders, and joys – the wine, free wifi in the parks, my co-workers' easy trilingualism. Wonders: creamed soups, chicken soups, borscht. And bafflement, the first time I try to find soup in the grocery store. Oh no, says my Romanian teacher, appalled at the notion. Soup isn't sold at the grocery store. True – soup is for homes and restaurants. The store is for a dozen types of corn meal, plump pomegranates and persimmons, rows of milks and yogurts (never exactly the same brands from day to day), and labels in both Cyrillic and Latin scripts that keep me guessing and that turn buying packaged spices into a thirty minute jigsaw of photos, transliteration, and translation.
Chisinau, Moldova: the Turkish Airlines flight map depicts this former Soviet breadbasket as an unnamed body of water. Flights to Chisinau leave in the bus station-esque part of regional airports, on the ground floors so the shuttle buses can better transport passengers to tiny prop planes. In Bucharest, the gates are behind the food court; in Kiev, at the farthest reach of the departures corridor. In Ataturk, Istanbul, the lower level is chaos, and the chances are high of missing the boarding call and ending up on a turboprop bound for Skopje or Pristina instead.
When Molotov and Ribbentrop laid down the faultlines of the wartime east, Moldova (then part of Bessarabia) came within the Soviet sphere of influence. German occupation, then Soviet reclamation, in 1945. Deportations, resettlement, regifting of the Black Sea port to Ukraine; independence in 1991; a brief civil war and Russian-established foothold in the unrecognized breakaway region of Transnistria; EU aspirations; Russian recriminations. A week after the United States' 2016 elections – three months before my arrival – a pro-Russia candidate won Moldova's presidency in a run-off election against the pro-E.U. education minister. All 2017 he routinely squares off against a pro-EU parliament who toys with the prospect of impeaching him.
The currents of empires eddy through these borderlands. At a folk dance festival, there are Roma dances, Ukrainian ones, Russian, Gaugaz, Romanian ones, and, in a moment of decontextualized dislocation, an Israeli settler dance. The kids working my kebab shop always speak to me in English, but the mobile phone hires mostly stick to Romanian. I am in a fashion show, and the makeup girls speak to me in Romanian, but the hairstylists – like most of the industry folks I encounter – use Russian. At a soccer game, the concessions guy insists on serving us pivo instead of birre, but when the Tiraspol team wins the match, four of their players whip out a Brazilian flag. My colleague's Moldovan mother communicates with her Colombian son-in-law and me in a mixture of Italian, Romanian, and pantomime. I am introduced to two members of the Alliance Française, one of whom immediately says something snarky in French about the untrustworthiness of US government employees. The other, as an afterthought, asks me a few minutes later if speak French. Oui, je comprend.
Moldova is empty space on the Turkish Airlines map, but in defiance of cartography my Dominican mother landed here in the 1970s, as part of a peace tour. She remembers a priest celebrating Mass in an unmarked house out in the countryside, a necessity in an era of Soviet anti-religious legislation. He'd had his back to the congregation and spoke in Latin, still in the old ways, as if Vatican II hadn't happened. Come Eastertime, my visiting boyfriend and I attend part of an Orthodox Easter service in a small parish church. Our host is a university student who has come home from Chisinau to help at her parents' guesthouse. It is midnight, so she walks us by smartphone flashlight through the darkened village of Lalova to the chapel. Parishioners take shifts standing and sitting through the hours-long service, against the susurration of priest and congregation in a cyclical call and response: hristos a înviat, adevârat a înviat!…. An old woman sits in the darkened vestibule to rest awhile, her kerchief illuminated in the candlelight.
There are moments of motion and moments of stillness. A terrible April snowstorm hits Chisinau a week after Easter and we are not sure which moment this is. Leaf-laden branches have fallen in the heavy unyielding snow, trees have fallen, power lines have fallen, but we have a flight to Bucharest. I make us a breakfast of muesli with Greek yogurt and pomegranate seeds while we debate the options. The power goes out. In an unfamiliar country, the parameters are unknown. What kind of taxis, what kind of ground crews, what sort of mettle. He wants to stay in and snuggle under the covers. I want to try for the airport. I had come here for stillness, but I find myself moving, always moving – I am pathological, maybe, or intrepid, or foolhardy. ….
Because, in an autocratic decision I bet on mettle. We take an SUV that inches down the airport road past lines of hitchhikers. The airport has power, hot sausages, and white wine. Six hours later, a twin prop plane with three flights' worth of passengers takes off with a shudder. When I return to Chisinau alone after four days, the snow is gone and broken trees splay everywhere.
A week after the snowstorm, I find myself with coworkers in a hot air balloon basket floating over the farmlands and valley of Orhei. Despite the windy day, the basket is blessedly still – of course it is, we laughingly realize – we are moving at the speed of the wind. Stillness in motion, until the basket bounces to a skidding halt in a fallow field and we all come tumbling out.
That same weekend I befriend two Moldovan actors at a May Day wine festival. One of them is a tennis-loving playboy and the other is producing Hamlet with life inmates in a maximum security prison in the north of Moldova. He invites me to the performance. The prison is near the banks of the Dniester, across the river from Transnistria. Thirty three percent of Moldova's inmates face sentences of more than ten years, and the 103 inmates here are in for life. The actors face a minimum of 25 years before the dubious and elusive possibility of parole.
The production takes place in the prison yard, with the sun going down behind the set and the other inmates watching from cells that wall the yard in. It is cold, and a motley collection of jackets appear, a generous loan from our captive hosts to warm the crowd. A gull flaps above the stage. Denmark is a prison, this jail is a prison, but the actors do what they can to keep their spirits in motion. The actor who plays Hamlet has spent a decade in prison, uncertain decades to go, and will marry his girlfriend of three years soon. You should write about that, the tennis player tells me.
I am doing a lot of writing, mostly thinking about motion as choice, as chance, as necessity. A dear friend tells me – you are running away. My boyfriend isn't sure why I won't come home. But cities all smell the same in the summer, and everywhere is home. Old women sell cherries on the street corner and little boys chase pigeons on the Cathedral plaza. Chisinau has not disappointed me, yet. But put otherwise, the weight of reality is not yet a burden in this place.
With its seeds swaddled in pith and saran wrap, the other half of my snowstorm pomegranate (an out-of-season gift from the central market) lasts a month. In this time, the mayor of Chisinau is arrested on suspicion of corruption, the Liberal party withdraws from the ruling coalition in protest, and the lilacs and peonies bloom. The Hamlet producer and I take a lemonade together on a sunny May afternoon so I can return a jacket that his girlfriend forgot at my house. We talk about the world, at once as big and as small as two strangers who met for the first time as old friends. Life, he says, is a provocation.
In a future present, when the world has shrunk back down to the routine of work home gym and back again, his words are a remembrance of the unscripted promise of the world. In the moment, they are a consolation. I am going back to Washington in a week, and maybe everything will be ok. Not all change is running away. Maybe it can be the long way home.
Even for my five month stay though, there is paperwork. To get my residency visa, and then to extend it, takes at least ten trips to the Bureau of Migration. Some of these trips are more successful than others, but my Romanian gets stronger too, and finally I get the staff to break from script and crack a smile. On my final walk to the Migration Bureau I look up and take pictures of facades that are crumbling but elegant. I earn permission to stay, a weekend and five business hours before my flight home. In Romanian, the verb to thank is non-transitive, a multumi. I thank, in an act of boundless gratitude. 
The weekend before my flight home, I meet with friends for an open air opera. We picnic on the banks of the river Raut: four Americans, a Frenchwoman and her Anglo-Moldovan husband, and their Afghan-Gaugazian friend. The Frenchwoman asks us Americans if we've ever seen bears in America and is delighted when we say yes. She says she prefers places where nothing happens – and yet, here there is so much happening that maybe she does not see? Molecules still move here and chance is the same. We drink Feteasca Neagra and watch sheep across the stream. The axes of the world are shifting, there is stillness in the motion, and thus provoked, we watch the goats ascend the cliff face and the birds fly by. We exhale.
Image: Provided by the author.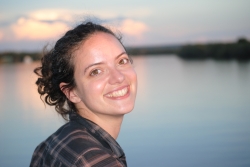 Latest posts by Flora Lindsay-Herrera
(see all)