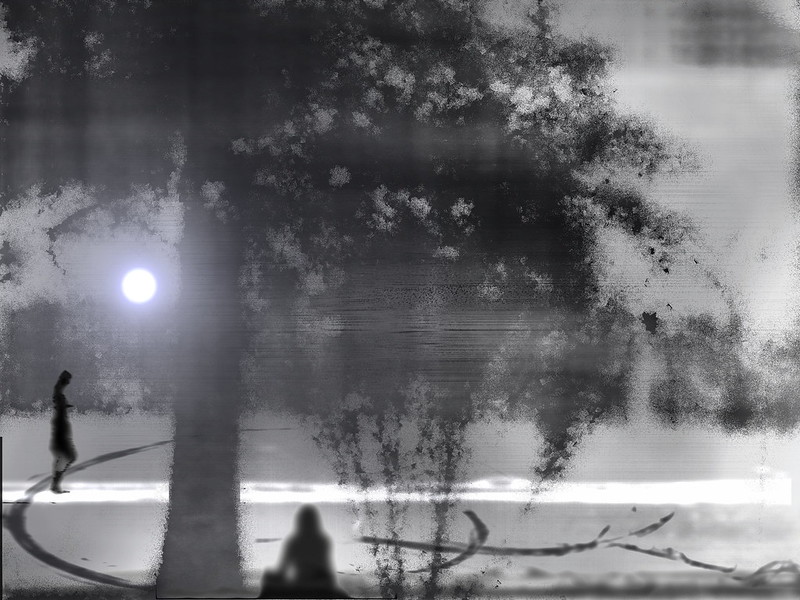 What a good use of time falling is
& regardless of the into, i.e. a pile
of leaves, their rustle, a love, the little
sigh a bed makes when a body meets it.
By falling as with most things I mean
both the sensation and the metaphor.
Already I have too many metaphors.
Too many ways to say my heart is a bad
flower blooming. But to fall is useful
as a metaphor because it contains both
an into & out of. Because of the ways
I can't say all summer with the heat
an urgency I stood by windows & refused
to look out, there was a tree's history
written on the floor, whatever I am inside
is an am I understand in a way the out slides
away from my grasp. Grasp, too, is useful.
The hand as a portrait of negative space,
an absence that says maybe. It is important
to remember the body is a space that is
its own whole & yet hollow. You can't
imagine it: the network of cells spidering
a thought from brain to finger, the abdomen
stuffed not like a doll's but with the same guts
you see spilled from a possum, roadside.
I would like sometimes to stop thinking.
I would like sometimes to be able to stop
myself from doing most things, to fall into
an absence in which I am unaware
of the concept of absence. To fall
into an into where I can imagine
the hand is just a hand, and enough.
Latest posts by Emma Bolden
(see all)