You raise your hand to shield your eyes
from the mycelian burn of living,
the path of your inarticulate want
running through the field from bed to bath.
You dreamt that you were two people,
and now you're nothing but an empty house,
run-down, ramshackle, not even haunted.
Your mother told you once not to worry,
she said life was like going to the zoo,
but the truth is we're mostly empty space
and whenever you left the house
the folded animals were inside sleeping.
And then there's the accident of being
here, shielding your eyes from morning's
hostile glare. Is it that you can't see
because you don't want to, or because
the face inside your face was left
planted deep in the night's fertile soil?
Lower your hand. Do what you can
to create your city. Feed it. Draw
your line. Dig your posts and fence it in.
It's so easy to lose track of things, and
you're in this shape for such a short time.
Image: "IMGP5443″ by Bill Benzon, licensed under CC 2.0.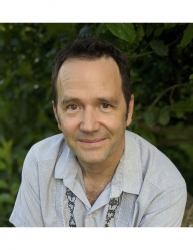 Latest posts by Peter Grandbois
(see all)