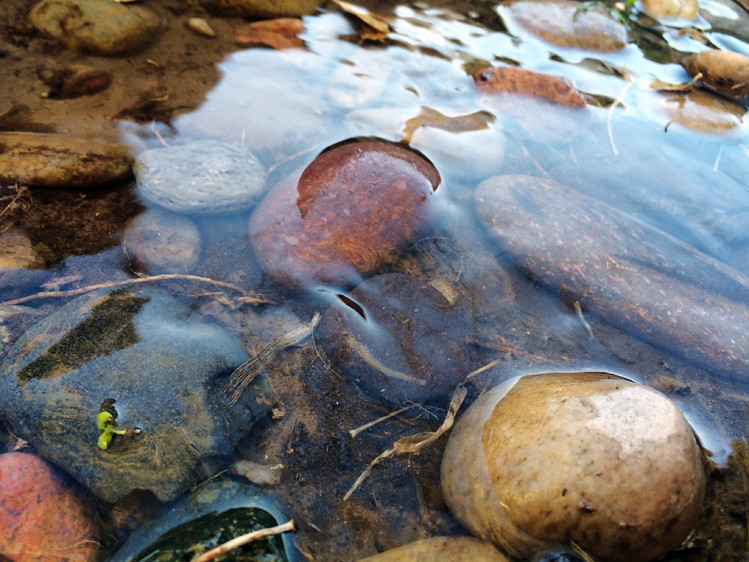 A yard is a box with its lid tilted up so anyone can look inside
+++++++++++++++++++and get closure. I looked all day
through the gaps in the fence where the wood rotted off
but I could not see my neighbor's yard. She had piled stones,
and her pile, I could see now, hollowed out a space. A grotto
+++++++++behind a grotto. After death, there is always
another box to look into. Inside, a circle of smooth stones.
The stones glistened. Water darkened them. It pooled around
them, and the earth slowly swallowed it—a mouth smeared
with food the body wants but has no place for, or a brain
+++++too full to be a vessel for memories so they gurgle over
the lip. I took a breath as I walked the aisle between folding chairs.
I don't remember clearly if the funeral home actually smelled
++++++++++++++like mildew or that's just what I assumed
and that's why I was thinking about yard work while I shook
hand after hand and the music put my insides inside another box.
++++++++++Towards the end, my mother showed the gaps
in her mouth all day to the window. The stone circle gurgled.
The water bubbled up its dark discharge. The gurgling like a hymn
swaddled in reverb. I thought the water was dew, and from it
+++++the slime grew down the rocks. But the water oozed
from the rocks, from cracks that had been covered with slime.
It was difficult to stand there, contemplating various nail sizes
during the long blank moments when an old friend recalled
the most routine day as though it were exemplary. I was on
my feet. I was knocked down. Stiff as a board, light as a stone.
+++++++++++++++++++The music grew louder; the slime
thickened. The stones throbbed, and their throbbing amplified.
The people filed out, but I knew the earth was already full
and spitting up water under a stone circle in a hidden grotto.
Image: "Be Like the Rock…" by garlandcannon, licensed under CC 2.0.