…quand il n'y a plus rien à retrancher.
Terre des Hommes
Accommodation. Once we'd learned to spell it,
found a pleasant sphere for an extended stay,
for a while, it seemed to fit.
The cetaceans seemed to know, however,
I don't know how, and say they tried to
warn us, oh, those others too, gave them signs,
much to the distress of anyone concerned,
shouldn't have been a shock. Well, no matter,
no great loss. Seriously, no joke.
And if it's true as some say that all creatures
always look to burn some excess luggage,
vascular dieback, then perhaps they
were intent on ridding themselves of earth,
and their lemming's effort then flipped
back upon them, undertow of their flame,
fodder for the fire. Not a problem, no, seriously,
it worked. And you want to know where they went?
Not our question to answer, put the screws to the moon.
All right, now, that's funny. Stop looking
so serious, we needed something
to break the ice. Oh, right.
Image: "Whale, cetus (1596-1610)by Anselmus Boetius de Boodt from the Rijksmuseum." Digitally enhanced by rawpixel, licensed under CC 2.0.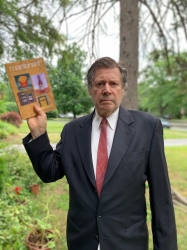 Latest posts by Bruce Robinson
(see all)