My dad hit a moose at 55 miles per hour.
He never had a chance,
that musky wrecking ball of bones.
I bit through my thumb on the couch
and bled like that moose—
life trickling out of his large nose,
baptizing the snow—a sad beauty.
A mercy gunshot for the fallen
and my dad walked away in the shockwave
of a state trooper rifle.
A few inches and this poem is a eulogy.
A few inches and that moose is a firing squad.
There is a cup in my house
with a cracked handle
and it's going to break off one morning,
splash coffee across my legs,
leave my eyes paralyzed with anguish,
and I have no idea which day that will be.


Click here to read Trapper Markelz on the origin of the poem.
Image: photo by C D-X on Unsplash, licensed under CC 2.0.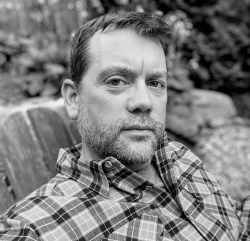 Latest posts by Trapper Markelz
(see all)