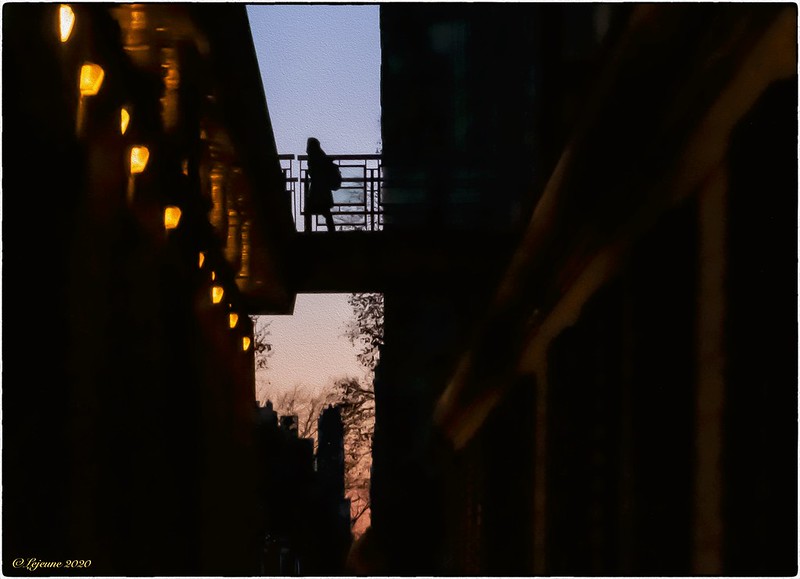 I've left the old Juilliard building,
am waiting for the #5 bus
in the dusk of my first October
in New York. Strolling by,
three trick-or-treaters smack me sideways,
swing me seasick, rout their hands
under my shirt, up my skirt, cup me—
heart-heaving me—in their newly-
adolescent hands. Above, the pious spire
of Riverside Church. Across, a noble-
ized soldier, high and white on his horse.
My two hands against their six.
Leotard and tights, sweat-glued,
keep them from my skin.
I writhe, the boys in cling,
into the empty-wide street.
If a car hits me, we'll all be hit.
But there are no cars. Not a soul
but the four of us and General Grant.
Not a sound but my huffs and oofs,
and the bells of the famous carillon.
Until, as they are lifting me off my feet,
the glorious accelerando of a bus.
They drop me and I land in a deep plié.
The doors whap open and I fall
into the belly of my savior.
A year later, I'm outside the great gates
of Barnard, piercing a stream of humans
erupting out the 116th Street exit from
the subworld. Our eyes meet and hold.
The leader of the trio, now fully a teenager.
He swerves to pass me close, and when
the sleeve of his jacket brushes mine
and his mouth isn't far from my ear,
he hiss-whispers the title of this poem.
Image: "Adjacent to Columbia University, On Amsterdam and 118th" by Bob, licensed under under CC 2.0.
Latest posts by Lillo Way
(see all)