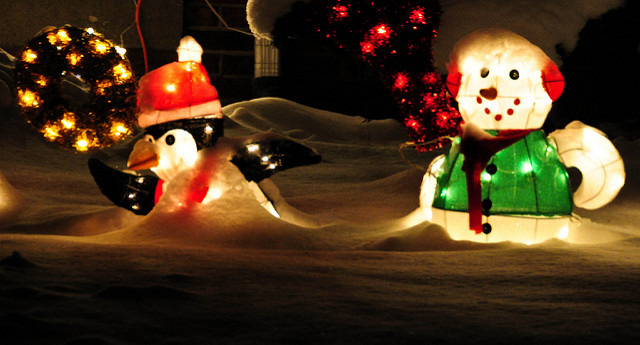 How comforting to be attached
To a little pump humming up the bill.
Low-voltage, guy-wired,
Standing with a long gun.
Bloused in camo, staked, tethered,
Blown into the visible—
Awake but not alone.
How comforting to be
Eight-feet tall, fully extended.
Perfect gainly seams
Burbling against a quadrangle of sky.
Ut pictura!
But finally, in the unseasonably
Warm weather unseeable.
One continuous billowy fabric
Rippling without knowledge.
How comfortable not to think of anything
And think it twice, not to see
Anything and see it twice, not to go East
Of anything—the tracks, Eden, drone-shadow,
The Eastern Garbage Patch—and go there
Twice.
Lo, seasonless mind.
The vista of the landfill down the hill
That stands upon itself
Mounded, terraced, dozing like a burning hill
In perfect native effigy.
Lo, the fertilizer
In the garage, vacuum-sealed
Under a plastic shroud
Waiting to make the dead spots
Grow.
Click here to read Scott Challener on the origin of the poem.

Photo "Snow Play" by Valerie Everett; licensed under CC BY 2.0
Latest posts by Scott Challener
(see all)