News said he died of a cocaine overdose
in the elevator shaft of an old warehouse.
He languished there for months, they said,
under a layer of ice until authorities came
and sawed him out. I wonder if I ever met him,
this Johnnie, passed by him on the street,
gave him a few singles that he used to buy a coney dog.
Maybe he hated coney dogs and bought a grilled
chicken pita instead. Maybe Johnnie had been
a construction worker, or basketball coach,
won a championship or two in the local rec league
where he preached fundamentals–hard defense
and ball movement–like his coach taught him
when he was young. Johnnie, who was never the star,
but played the right way. Johnnie, who fell on hard times,
slipped up, like Darius with the DUI, Bob with his temper,
me with the cheating and pleading and cheating again.
I want to know his face, Johnnie, but can only see his feet,
the rest of him dug up only to show
how the body rots into spectacle,
how the white of his tube socks glistened against the black ice.
Image: "Homeless by a Wall" by Garry Knight, licensed under CC 2.0.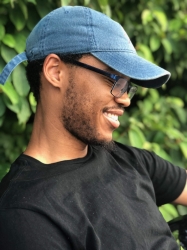 Latest posts by Justin Danzy
(see all)