I don't know about you, but I'm ready for something to be
different. This staying at home, not knowing what's going to
happen next, worrying, not sleeping well…it's tiring.
Email from my yoga teacher, May 26, 2020
Let us be tired
Let us stay and arrange the coffee mugs on a new shelf;
let us stare at the dog;
let us roam around the house forgetting
what we needed to do next. Let us
read the 1000 names knowing they are only
a portion of what ails us—. All morning let's read them.
Let us read the names out loud.
Let us be interested in how the Times defines a life and
how we do. How we do. This is the virus and that is the gun.
This is the virus and that is the knee on the neck. This is the
vigil and that is the vigil. This is the breath not taken
and that is the breath not taken. This is the storm and that is the cough.
This is the mask and that is the placard.
Let us hear the fear in a neighbor's cough;
let us hear the fear in a siren.
Let us vigil, let us watch here on our knees, in the sunlight
let us remember to kneel in the sunlight, 8 minutes, 20 minutes, a lifetime
let us reject athletic trainers and yoga teachers and meditation leaders and priests
and poets. They mean well. They mean
to get us back into "it"–they are here for "us"
Let us stop feeling relieved if we do not have
underlying conditions. We have underlying conditions.
Image: "Coronavirus COVID-19 pandemic" by www.vperemen.com/ licensed under CC 2.0.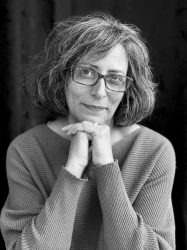 Latest posts by Julia Lisella
(see all)