Today is a good day so I can offer
or try to offer connective parts like
connective tissue, invisible: what
extends between us. So it isn't so
much offering as pointing out: we
are connected by invisible tissue.
You ask me over and over every
time I come to give you the definition
of this thing I carry with me which
in so many ways has gone beyond
pain: a burning hand that takes me
to sometimes even a trail of beauty;
dying trees covered in scaffolding,
a map of crushed stuff at their feet;
heron voices. The longer I stay
and look the more the distant box
stays open and I can warble or crawl
toward it instead of just trying to sit
here in this chair. I don't really know
how to be here either but the longer
I make the path, the more lookouts
appear. There is a skull with light
in it, a holy shovel until I'm nailed
again to the sky in my head and we
stand here together like clouds.
Click here to read Julia Story on the origin of the poem.


Photo: "Lone Tree" by Esther Weeks. Used with Permission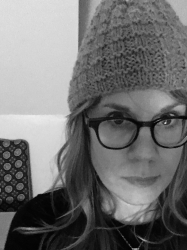 Latest posts by Julia Story
(see all)