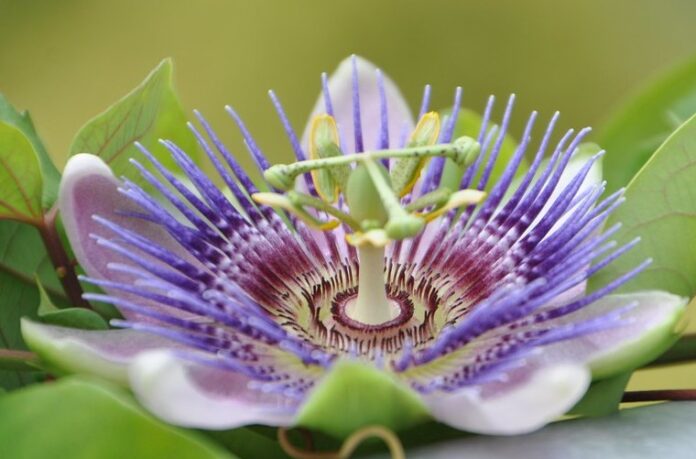 What falls falls, / I'd like to write, in continuous swoon
—Dean Young
Oh, if I were a bee, I'd barrel right into that ecstatic petticoat, this crazy
flower that pulls out all the stops to open for just one day of glory, falling
in continuous swoon, a combustion of rapture—no wonder Catholic priests
named it after the Passion of Christ, jerry-rigged the filaments into the crown
of thorns, stepped up the stigmas to be three nails that held Jesus to the cross.
I kid you not, I first thought it was plastic, right out of the Christmas Tree Shop,
or a photoshopped pop tart, raucous as a girl's pink and purple Disney Princess
Plastic Strap Watch, or a hand-painted Fabergé brooch, this psychedelic face
poking out at me from a vine wrapping a pole on a cemetery path, five green
anthers like turbines on a small plane, mounted with three purple stigmas
about to take flight from a yellow and purple launch pad, ringed with periwinkle
filaments, a confection worthy of Escoffier. Who would go for this today—
wait, I take that back, we're more than ever ready to validate and vindicate,
tiki torch and excoriate, lie to make a man a king, a god, a syndicate.
Image: Passion Flower by Ted, licensed under CC 2.0.
Latest posts by Wendy Drexler
(see all)