The Plague Year Begins
Outside the world blooms without us
as we picnic alone on whatever was left
when the sirens started a burning in the lungs.
How the world creeps inside our bodies
smaller than ghosts is the vapid air stealing.
They pretended it was not a field of bodies
and so the bodies went away, stolen.
Bodies, bodies still kissing, locked
in the heat of houses, rows of votives
all along the street, remembering
what to do with our bodies when
the world is blooming bright as a picnic
as the sky falls around us, a series of petals
littering the earth with bits of before.
Half-life
What I mean is how chill marble
echoes through my palm for days
shivers up the piano's spine
broad scale of summoned rain
hard edge of a long frost
on the fifth morning my window
shut tight for months though
the sparrows call and call.
What I mean is your face
is a lantern but light never lasts.
What I mean is a puddle
of mercury in the dust
but you must not touch
because beauty is madness.
What I mean is the gnawed bone
of constant worry gristle stuck
in my sleepless throat, waking
hunger, the aluminum heft
of the apple press churning
the prickle sting of blister
starting tender on my thumb
and the knocking from the closet
every time I drain the tub.
Because the shoreline is empty
I keep pushing forward
how a volunteer will push up,
lone zinnia leaning among the mint.
What I mean is the slow ribbon of afternoon
sudden tug of evening surrender
to clean cotton wool heft of blanket,
tenterhook roots of ivy reaching
to grip apart the mortar, climb
apart the future and tumble the brick
into the hollow space between
each hammer of my heart.
What I mean is I walk in graveyards
because there is something inside me
only the dead can understand.
Image: "Picnic Table" by Jennifer C., licensed under CC 2.0.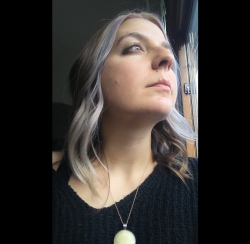 Latest posts by Ann V. DeVilbiss
(see all)