Days before the football World Cup, I am usually uncontrollably excited. It is all I can think of for weeks, and it is thrilling: the pinnacle of the most popular game on the planet, enjoyed by more than half the world. I will never forget seeing the first goal scored in the 2010 South African World Cup by South Africa's Siphiwe Tshabalala and the joy that followed, or, as a child, waking up early to watch England's tragic exit against Brazil and that Ronaldinho free kick in the 2002 Japan and South Korea World Cup. At its best, the World Cup is a celebration of cultures and of the beautiful game.
Yet I am not alone in feeling that the Qatar World Cup, which begins on Sunday November 20, has been tarnished by Qatar's many human rights abuses, its treatment of LGBTIA+ communities, and thousands of dead migrant workers. These scandals have cast a dark shadow over the tournament, making it difficult to feel excited, or to put aside the politics of the tournament. If you love this game, as I do, and are likewise struggling, then it begs the question: Is it possible to both enjoy the World Cup and protest, to watch and advocate for change? 
The Qatar World Cup fits neatly into a geopolitical trend: countries using tools like beloved sports teams, to increase resources, and to direct attention away from their human rights record. This World Cup isn't an isolated example of so-called sportswashing. The list of countries that have bought teams in recent years to launder their reputations is long: Qatar also owns Paris St. Germain, France's premier football club; Abu Dhabi owns Manchester City, England's best team; Saudi Arabia recently bought Newcastle United, a rapidly rising English team, and Roman Abramovic, a prominent Russian oligarch and close associate of Vladimir Putin, owned Chelsea FC until the Russian invasion. Russia itself hosted the 2018 World Cup, and invaded Crimea in 2014 days after the close of the Sochi Olympics. In this sense, the 2022 World Cup is hardly unique.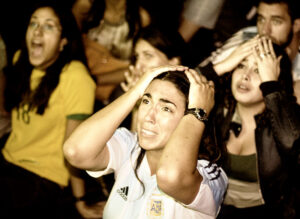 This tournament is different because of how Qatar persecutes gay people, and how it prepared for this World Cup. Same sex relations in Qatar are punishable by up to seven years in prison, and arrests are frequent, calling into question the safety of fans and workers alike. In terms of preparation, Qatar spent $220 billion to construct eight stadiums in the desert, a new airport, a metro system, and roughly 100 hotels to host teams and millions of fans. To build this infrastructure, Qatar imported migrant workers from South East Asia on the promise of a better life and higher wages. The Qatari population is a total of close to 3 million but Qatari citizens number only around 350,000; the rest of its 2.6 million residents are mostly migrant workers. The weather in Qatar means it is too hot to play in the summer, which is why the tournament was scheduled over winter. Too hot to play football: not too hot for migrant workers to toil for years to build the necessary infrastructure in the desert. Those workers made this World Cup.
The system between employer and employee in Qatar was known as "kafala," which, on paper, was largely dismantled in 2021. Under kafala, wealthy "employers" paid their "employees," but they also housed them, fed them, and controlled nearly every aspect of their lives. Until 2020, immigrants were not able to leave Qatar or change their job without permission of their citizen-employer. Abuse was rampant — wages were confiscated, passports were destroyed — and there remains little legal recourse available to migrants.
The truth is we may never know how many migrants have died. Qatar officially claims three workers have died; the Guardian reported in 2021 that 6,500 had done so. The real number could be far higher. While Qatar claims to have dismantled kafala, Human Rights Watch (HRW) found that the enforcement of these laws is lagging and significant abuse likely still occurs. Regardless – cursory attempts to update laws will not clean the blood of Indians, Bangladeshis, Pakistanis, Sri Lankans, and Nepalese from football stadiums and hotels around the country.
It's easy to feel overwhelmed by the knowledge that we — as consumers — are complicit in economic systems built on layers of exploitation. Sports fans are no different: how am I, a single viewer, going to change a global system? And isn't the damage already done?
Sometimes fans believe we have no specific obligations to consider the ethics of our sport, it's just a game, after all. But we should all care, because it is our own fandom that gives these events power, that creates the lucrative payouts — and it is our complicity that companies, FIFA, and in this case Qatar, rely on. Even if we accept that we should care, it can be hard to imagine what we can and should do, and there are no easy options or answers. 
Yet engaging with this World Cup is not about us as individuals, we are a community. We care, watch, and love the game together. We can create a social movement that pressures multiple actors — businesses, local government, national football associations, and national governments — so FIFA does not award events to countries like Qatar, and nations that want to host international events reform. We have more power than we think: FIFA and Qatar are desperate for our complicity and for the tournament to be successful — so much so that Qatar is allegedly paying fans to appear at games. 
Fans have helped create political change before, though not all at once and the record can be mixed. Perhaps the most famous sporting boycott of all, that of the South African cricket team during apartheid in the 1970s and 80s was instrumental in pressuring the South African regime. Yet a critical difference between the South African cricket boycott, and the Qatari World Cup, is the lack of institutional support. Today, no team is refusing to play, and no governing body is willing to sanction Qatar. The World Cup is too profitable for brands, and too important as a regional ally to the US and others, for them to contemplate boycotts. 
That said — some are trying. The Australian team created a moving video explicitly engaging with Qatari human rights, Qatar's anti-LGBT+ record, unionization and migrant workers, and their own participation in the tournament. The Danish team will wear shirts with faded logos and have a third black shirt to mourn the migrant workers that died. Major cities across France, Spain, and Germany will not host public viewings of the games. For months, German football fans have unfurled "Boycott Qatar 2022" banners. Many British sports channels have committed to critically covering the abuse, despite Qatari censorship, an example of which was caught on camera. Dua Lipa is not performing and said that she looks forward to visiting Qatar "when it fulfills the human rights pledges it made." 
Yet most football associations, governments, and businesses have not done enough. Fox Sports, which will broadcast in the US, has pledged to ignore the issues as they are "ancillary to the tournament." The President of FIFA, Gianni Infantino, wrote a letter urging countries to "not allow football to be dragged into every ideological or political battle that exists." Infantino's letter is a monstrous abdication of responsibility — we should demand and deserve better.
We should do what we can to push back against human rights abuse, demand better, and join with the few institutions protesting in various ways. There are plenty of options, some better than others: 
Limiting the Games You Watch. You could select just one team to follow, rather than watching as much as possible. But I am conflicted about this option: watching all the England games (as I would) still means watching an uncomfortably high number of games. In a sense, this option, and others, comes down to whether limiting the amount of time you watch limits your culpability — and on the other side, does it help create pressure? I think probably yes, and so this option has potential in that it is convenient, though a little unsatisfying in that we will have made time for those games either way. But it is better than nothing, and is easier to do than other options. 
Illegal Streaming. A friend suggested illegally streaming the games. Steal from broadcasting companies that made deals with Qatar, thereby indirectly stealing from Qatar, and enjoy everything you want. This seems appealing, although support is not only about paying money. It seems too convenient to have my cake (boycott) and eat it too (watch it anyway). Can we really do both? I do think this option is more likely to catch on — it's not a full boycott, and it's relatively easy to do.
Public Viewing. What about going to bars and pubs, watching for free and supporting a local business? This has the benefit of ensuring your neighborhood bar, and community, benefits. But, the photos of fans, the atmosphere, the money spent: it will all be thanks to the World Cup. And the next time a despotic slave state hosts an event, everyone involved may well conclude that "last time local businesses did well, so we can do the same thing again." Still — at least money is not directly flowing to the abusers themselves.
Watch Nothing. A final viewing option, one that Eric Cantona, perhaps France's most famous and certainly most metaphor-filled footballer, will be using is: do not watch any games at all. A strict rule gives the impression of moral clarity, is easy to follow, and does away with the difficult business of drawing lines in the sand. But few will be willing to go this far. The World Cup is too popular, and if the point is to develop community action, selecting realistic options is key.
Boycotting the Advertisers: Beyond watching, there are plenty of advertisers sponsoring the World Cup in each country. Boycott them: refusing to buy that brand of beer, or ordering pizza from that company, feels relatively easy. There's a lot more beer to choose from!
Talk, Try: Don't Let Perfect Be the Enemy of the Good. Above all, I think we should try. None of these strategies are satisfying on their own. But movements are more like death by a thousand cuts: a lot of people doing many small things that aggregate to something larger. If the history of protests has taught us anything, it's that however irrelevant they may seem today, they grow, like a snowball rolling down a hill.
For what it's worth, I will be talking to my friends and urging them to engage with this. I'll try to adopt a mixed approach — watching only at bars, or streaming illegally, and boycotting advertisers. As a community, we can also write to our elected officials to voice support for the Human Rights Watch and Amnesty International proposal that the Qatari government provide compensation to migrant workers and their families.
There are no easy ways out, the damage has been done. Change takes time, but nothing happens on its own. Qatar is already set to host the 2030 Asian Games. What we do as fans matters both for the future of football, and more importantly for tens of thousands mistreated in our names, for our money, and for our entertainment. The least we can do is make our voices heard. 
Images: Top, By Marcello Casal Jr/Agência Brasil – [1], CC BY 3.0 
Argentina's Fourth Penalty is Stopped by the German Goalie, by Moazzam Brohi, licensed under CC 2.0.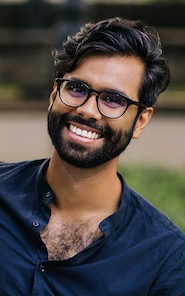 Latest posts by Apratim Gautam
(see all)