Some people must wonder why we want bones.
I want them so much! I want them so much!
–Violeta Berrios in "Nostalgia for the Light"
In Chacabuco in the open air,
the half-buried remains
of Pampinos, the nitrate men,
like geological layers swept by wind.

A land permeated with salt,
no insects, no animals, no birds.
Mummified remnants, blankets, and shoes.
Not pebbles washed up by the sea.
Not cairns to mark the way. Not stones thrown.
The fragments too white, too smooth,
too like thighbone, or arm.

A mother tries to find her son
by touch. It is her hand, not her voice
that calls out to him. The memory
in her fingers, plays like
a broken accordion.

There is no song here,
only the incessant wind.

An abandoned whitewashed
house, where the names on the walls
crumble, letters missing–
Rene Olivares, E… Pat… lli, Federico… Q… C
What is left, the cloudless
irrevocable descent of the sun.
A hand shovel
and endless salt.

It is said that in the desert you become
more silent than the silence around you,
then suddenly hear silence speak–

here, syllables of human petroglyphs.

Each word is washed, each bone.
Tomó Jesús el pan, y bendijo, y lo partió, y dió á sus discípulos,
y dijo: Tomad, comed, esto es mi cuerpo.

The duelo is wind.
The duelo is salty dirt.
The duelo is a body broken.

Night arrives like a door kicked in
wind full of bones and hair.
Nowhere to run.

Awake in the dark
stars light up, tens by hundreds
by thousands. The past beyond the past,
light of a billion bodies arriving.

To feel their gravitational pull,
secrets that have been travelling forever.
A light rain of names begins to fall.


Dedicated to Violeta Berrios (already evoked in epigraph)
Image: "Chacabuco" by MedinaKa, licensed under CC 2.0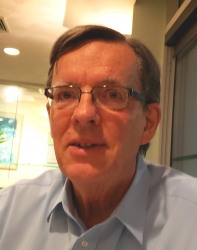 Latest posts by David Green
(see all)