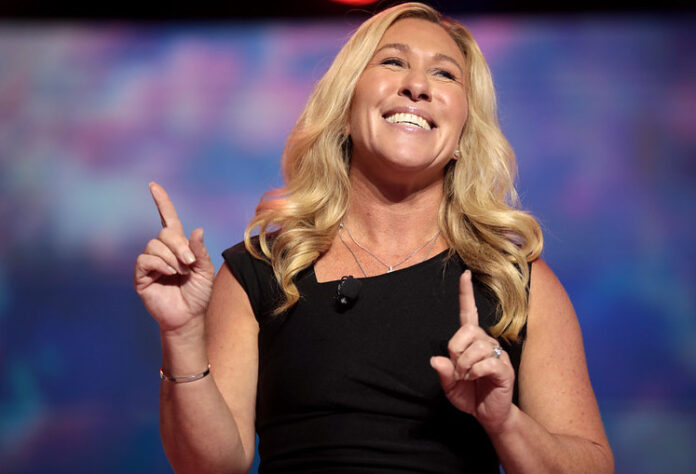 Image: Marjorie Taylor Greene, by Gage Skidmore, licensed under CC 2.0.
"You have to quit confusing a madness with a mission," a disembodied voice says to fourteen-year-old Francis Tarwater in Flannery O'Connor's The Violent Bear It Away, shortly before the boy drowns his young cousin. In O'Connor's 1960 novel, Francis is kidnapped by his mentally ill uncle Mason Tarwater, who raises the child to believe they are both Christian prophets. The boy's uncle has two wishes before his own death — that Francis give him a Christian burial, and that Francis baptize his young, mentally disabled cousin. The lengths that the boy goes to first to avoid, and then carry out his uncle's requests result in an unusually grim ending even by O'Connor's standards, whose fiction often feature committed Christians and would-be do-gooders coming to untimely ends. But part of what is so fascinating about Flannery O'Connor, the Georgian "lady writer" who died of lupus before reaching 40, is that she achieved fame for stories which upon first glance appear folksy but are in reality murderous peregrinations across the American South.
For most of her life, Flannery O'Connor lived in Milledgeville, a town of less than 20,000 people in Baldwin County, Georgia, home to Georgia Military College and Georgia State College for Women, where O'Connor studied Social Science. After graduating from GSCW and the University of Iowa Writers' Workshop, O'Connor spent time in writing residencies and the homes of friends along the East Coast before a diagnosis of lupus forced her back to Milledgeville just as she had begun to make a name for herself writing fiction. Along with her mother Regina O'Connor, Flannery would live out her days at Andalusia, a dairy farm and three-bedroom home where they raised cows and peafowl, Flannery maintaining a disciplined schedule of morning mass at Sacred Heart Catholic Church, followed by three hours of writing a day.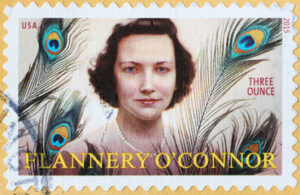 The Saturday in August 2021 when I visit Milledgeville for the first time it's a humid 88 degrees, and I'm the first visitor at Andalusia, the only taker for the 11am tour. My guide, a young woman with an encyclopedic knowledge of the O'Connor family, leads me through the rooms of the house, pointing out appliances and furniture original to Flannery's and Regina's life on the farm.
Milledgeville turns out to be less precious and more likable than I had imagined. A marching band is parading in front of the Military College, and the nexus of small streets and coffee shops that make up the small downtown is reminiscent of hip Southern towns like Asheville or Chattanooga, but with its own style. In the first curio store I visit I end up in an engaging discussion with the Korean owner, who is happy to learn I have spent several years teaching in Seoul. He hands me three Maxim coffee packets as I am leaving and asks if I know when we'll be able to get the next COVID booster. The talk with the Korean shop owner, dinner at an excellent Vietnamese restaurant, and a wide-ranging chat with the Indian manager of my motel give me the impression that Milledgeville is more diverse than the backdrop of O'Connor's short stories, or the birthplace I had imagined befitting Marjorie Taylor Greene.
II.
By all accounts, Marjorie Taylor Greene, House Representative for the 14th Congressional District of Georgia, was born in Milledgeville, Georgia in 1974, although I have yet to see a birth certificate. According to the biography posted on the House of Representatives website, Greene graduated from high school in Cumming, Georgia, and earned a business degree at the University of Georgia. As stated in her own House of Representatives biography, Greene is a "Conservative Businesswoman" with a "strong Christian faith" who, after working in her father's contracting business in Alpharetta, found her calling as a CrossFit trainer/owner at "one of the top CrossFit gyms in the country." It was during Greene's CrossFit years that she began a sideline as a conservative contributor to conspiracy and fake news websites including "American Truth Seekers" and "Law Enforcement Today," publishing posts on topics including "Democratic Party Involved with Child Sex, Satanism, and The Occult," and "Q Anon: What is the Storm?? And is there about to be an Awakening?" A resident of Georgia's 6th Congressional District in 2020, Greene ran for congress in Georgia's 14th District under the slogan, "Save America, Stop Socialism," and by the time she was sworn in in January 2021, had moved to a residence in the 14th District where she had run.
To say that at this point in her house tenure Marjorie Taylor Greene has become a caricature of herself would be to give Greene credit for having evolved. From the beginning, Greene's public persona has been an outward display of aggression that is meant to connote conviction, a performance of crassness marketed as authenticity. From her early days as a Congresswoman when she followed Parkland shooting survivor David Hogg around, accusing him of "using kids" to make a political point, to her most recent incarnation as a self-proclaimed Christian nationalist, Greene's brand has always been doubling down on false narratives to the extreme. Greene has questioned whether mass shootings at Parkland and Sandy Hook actually took place and labeled them "false flag" attacks, has implied that the Rothschild banking fortune helped fund space lasers that caused California's deadly 2018 Camp Fire, and in 2019 questioned whether Supreme Court Justice Ruth Bader Ginsburg had been replaced by a body double. After the 2020 presidential election, Greene promoted the false theory that the presidential election had been stolen, and in 2021 she was suspended from Twitter for sharing false information about the COVID-19 vaccine. In 2022, just months after speaking at the White Nationalist-affiliated America First Political Action Conference (AFPAC), Greene shared a doctored video of U.S. President Joe Biden and tweeted, "Joe Biden is Hitler."
"Whenever I'm asked why Southern writers particularly have a penchant for writing about freaks, I say it's because we are still able to recognize one," Flannery O'Connor wrote in her 1960 essay "Some Aspects of the Grotesque in Southern Fiction." While Marjorie Taylor Greene's supporters would not recognize her as a "freak," she handily fits O'Connor's definition of the grotesque, in which "connections which we would expect in the customary kind of realism have been ignored…yet the characters have an inner coherence." Grotesque as Greene may be, it is that "inner coherence" of extremity that she inhabits so fully, and which no amount of extremity can undo.
III.
My second morning in Milledgeville, after a brief stop at Sacred Heart Catholic Church where Flannery O'Connor attended 7am mass, I visit Milledgeville's most famous historical building, Central State Hospital, once the largest mental institution in the world. An imposing 1837 gothic structure still treating patients with lobotomies and electroshock therapy in Flannery O'Connor's era, the weed-covered grounds appear every inch the set of a classic horror movie. I rush to greet a man exiting one of the building's lower chambers in the hopes that he might fill me in on some of the hospital's dark history, but I learn that he is an events coordinator who helps rent out rooms of the former hospital for "weddings and concealed carry classes."
According to Atlanta Magazine, the hospital originally founded as the Georgia Lunatic, Idiot and Epileptic Asylum welcomed its first patient in 1842. By the 1950s, when Flannery O'Connor was writing short stories, the hospital was known for its primitive treatment methods including lobotomies, electroshock therapy, involuntary sterilization, straitjackets, and cages. They treated patients for a range of mental syndromes including "domestic unhappiness," "intemperance," and "religious excitement."
The most well-known stories of Flannery O'Connor feature religious zealots, such as Mason Tarwater in The Violent Bear It Away, religious hucksters such as the bible salesman in "Good Country People," and the extreme "anti-religious," such as Church Without Christ preacher Hazel Motes in Wise Blood. In these fictional characters, religious conviction is more akin to the "religious excitement" syndrome that might land a person in Central State, and O'Connor herself talked about the influence of the hospital on her writing.
O'Connor's interest in religious faith though, was not merely that of a psychological lens. A devout Catholic, O'Connor exchanged letters with friends and fellow writers in which she often commented upon her faith, an anomaly in the deeply Protestant deep American South. In a 1955 letter to a friend, she wrote, "When I call myself a Catholic with a modern consciousness, I don't mean what might be implied in the phrase 'modern Catholic', which doesn't make sense. If you're a Catholic, you believe what the Church teaches…" Like Southerners able to recognize a "freak," as a writer of deep religious faith, O'Connor had an uncanny ability to both recognize and portray the would-be faithful in all of their "excitement," coherence, and contradiction.
IV.
Before leaving Milledgeville for Savannah, where Flannery O'Connor lived as a child, and where her famous backwards-walking chickens would be her first claim to fame, I take a quick drive around Lake Sinclair, which is shimmering in the late summer light. I am surprised by how much I like Milledgeville, how friendly the people are, and by my random, diverse encounters. In 2017 Milledgeville elected its first female mayor, African American realtor Mary Parham-Copelan, and in 2021 Parham-Copelan is running unopposed. On my drive I imagine myself living in Milledgeville, frequenting the Vietnamese restaurant and the Korean curio shop, writing on café patios as the GMC band marches by. In 2021 the city is no longer Flannery O'Connor's, and it's also not Greene's.
Before leaving I had also stumbled across another thread of Milledgeville's literary history. The New Orleans-born writer John Kennedy Toole, who would be awarded a posthumous Pulitzer Prize for his humorous tour-de-force novel A Confederacy of Dunces, had driven to Andalusia days before asphyxiating himself outside of Biloxi, Mississippi with a gas hose attached to his car. A couple months earlier the struggling 31-year-old writer had walked out of his teaching job at a New Orleans university, and after a spat with his mother, hit the road to Milledgeville, evidence of his attempted visit to the O'Connor farm in his pocket when his body was found. Like O'Connor, Toole was a Catholic, albeit a non-practicing one, and his deeply entwined relationship with his own mother the key to his manuscript getting published after his death. Although Flannery O'Connor had been dead for six years when Toole made his visit, the thread that connect the two darkly humorous Southern writers is apparent even without evidence of his final pilgrimage to Andalusia.
V.
A year after my road trip to Milledgeville, in August of 2022, Marjorie Taylor Greene is running to hold on to her House seat in the 14th District of Georgia. Her Democratic opponent is Marcus Flowers, a Black United States Army Veteran and former defense contractor who has shown impressive national fundraising results but is not expected to win. At a September rally for Trump in Wilkes-Barre, PA, two months before the midterm elections, Greene sides with a Right-Side Broadcasting Network reporter repeating a false story about a school in Texas that was forced to put out a litter box when a student identified as a cat, doubles down on the false claim that Trump won the 2020 election, and reiterates her previous calls for Dr. Anthony Fauci to be put in jail. Greene, who racked up more than sixty-thousand dollars in fines for failure to wear a mask in Congress during the pandemic, had months earlier laughed off fears about COVID-19, opining, "We're human. We can't live forever."
In Flannery O'Connor's story "A Good Man is Hard to Find," a character known as "the grandmother" sets out on a road trip from Georgia to Florida with her son Bailey, his wife, a cat, and her grandchildren, John Wesley and June Star. The grandmother has read a newspaper article about an escaped convict known as "the Misfit" who is believed to be on his way to Florida, and suggests that they go to Tennessee instead, a state John Wesley refers to as a "hillbilly dumping ground," following it up with, "and Georgia is a lousy state too." The grandmother joins the road trip regardless of her misgivings about the escaped criminal, commenting that, "In my time… children were more respectful of their native states and their parents and everything else."
On their way out of Georgia the family stops for a meal at a filling-station diner run by a man named Red Sammy, the grandmother still occupied by her apprehensions about the Misfit. While taking the family's order, Red Sammy says, "These days you don't know who to trust," lamenting that, "A good man is hard to find."
After lunch, the family resumes their road trip, heading off on a detour when the grandmother wakes up from a nap outside of Toomsboro, Georgia, remembering a nearby plantation she knew. In order to convince Bailey to venture from the route they are on, she tells the family a false story that the plantation was known for a secret stash of silver hidden from General Sherman when his men came through.
"'There was a secret panel in this house,' she said craftily, not telling the truth, but wishing that she were."
After outbursts from the children, Bailey relents, and the family drives down an isolated dirt road in search of the old plantation. As they head further down the untraveled dirt road, the grandmother has a sudden realization that she was wrong about the location of the plantation, which was in Tennessee and not Georgia, and her embarrassment results in a chain reaction which causes Bailey to accidentally drive the car into a gulch.
Though the family has not suffered any serious injuries as a result of the accident, they are soon approached by a "big black battered hearse-like automobile." Three men get out of the vehicle, one of them bearing a gun, and the grandmother realizes that he is in fact the escaped criminal known as the Misfit—which she, not so wisely, blurts out. After the Misfit is recognized, the children are taken away by one of his men. The grandmother implores the Misfit to show mercy by desperately attempting to convince him that he is a "good man." While shots ring out in the forest where the children were taken, and the grandmother's attempts to persuade the Misfit that he is "a good man" fall on deaf ears, she mutters a desperate prayer to Jesus.
"Jesus thrown everything off balance…" the Misfit quickly responds, in one of O'Connor's signature theological volleys. "If He did what he said, it's nothing for you to do but throw away everything and follow Him, and if He didn't, then it's nothing for you to do but enjoy the few minutes you got left the best way you can… no pleasure but meanness."
The grandmother's hopes waning, and her efforts to convince the Misfit that he is a good man having failed, she touches his shoulder in a last desperate attempt, pleading, "You're one of my own children," which prompts him to shoot her three times. Discussing her death with his cronies, who return from killing the rest of the family, the Misfit explains, "She would have been a good woman…if it had been somebody there to shoot her every minute of her life."
VI.
On September 13, 2022, Marjorie Taylor Greene, out of the Twitter doghouse, posted a video message to her followers with the tweet, "Congress is back in session, and it's always bad for the American people." In her video address, the Congresswoman decried funding that would go to Ukraine and "Monkeypox — the one thing that no one is concerned about," concluding with her refrain that, "it's always a problem when Congress is in session."
As Greene has gained national infamy beyond Georgia, many humorists have seized upon the unintentional irony of statements such as these to portray Greene as a joke. Perhaps the best of these is Emmy-nominated comedian Randy Rainbow, who released a video of the Congresswoman's false statements to the tune of Barbra Streisand's "Evergreen," a musical medley that begins humorously, but ends on a stretched note closer to fear.
It's not hard to imagine that in Flannery O'Connor's handling a character such as Greene would be comical, but also that O'Connor would have explored the violence lurking within. In her essay "Some Aspects of the Grotesque in Southern Fiction," O'Connor asserts that grotesque fiction "is almost of necessity going to be violent and comic, because of the discrepancies that it seeks to combine."
In addition to sponsoring new legislation, Greene will surely continue her business pursuits, which recently have included selling T-shirts with cross iconography that read, "Proud Christian Nationalist" over her Instagram. Despite her self-branding, after one term in Congress, Greene's own theological bent remains murky. Like O'Connor, Greene was born into Catholicism, but claims to have left the Church out of concerns about pedophiles. Greene recently attacked the Catholic Church ("What it is is the Church is controlled by Satan") for offering aid to undocumented immigrants, a subject O'Connor addressed in her story, "The Displaced Person," based on the Polish refugee she and her mother took in after the Second World War. Although Greene's anti-Muslim, anti-Semitic, and anti-Catholic statements have often been publicized, it is more difficult to locate Greene's religious identity outside of "Christian Nationalist," and which Christian church, if any, she does attend.
In 1960, Flannery O'Connor wrote,
"I am always having it pointed out to me that life in Georgia is not at all the way I picture it, that escaped criminals do not roam the roads exterminating families, nor Bible salesman prowl about looking for girls with wooden legs…When we look at a good deal of serious modern fiction, and particularly Southern fiction, we find this quality about it that is generally described, in a pejorative sense, as grotesque…yet the characters have an inner coherence, if not always a coherence to their social framework. Their fictional qualities lean away from typical social patterns, towards mystery and the unexpected."
It is not hard to imagine a Flannery O'Connor story featuring a fictional character similar to Marjorie Taylor Greene. Many of the author's northern readers might even have labeled the character "Southern grotesque." But years after the author's death, the real Marjorie Taylor Greene, in determined possession of what O'Connor calls "an inner coherence," has assumed her role in real life, in real politics, not merely in Georgia, but on the national stage. O'Connor concluded her essay on the Southern grotesque with a simple statement that may have been misunderstood at the time, but which today can be read as a warning: "It is this kind of realism that I want to consider."
Image of Flannery O'Connor Stamp, licensed under CC 2.0.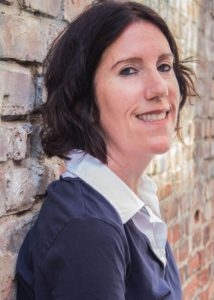 Latest posts by Leah Griesmann
(see all)