Pangyrus presents another essay in our political column, The Sounding Board. What's The Sounding Board? It's politics writ large—and writ well. The makeup of society, the ways we interact, how cities get built, wars started, families reunited, poverty worsened or alleviated. This column will always challenge, always engage—and always be open to new perspectives.

 
_______________________
I do not pretend to know Ukraine well, but I have been there. I visited Kyiv in the winter of 1985 when I tagged along with the Russian Department of Åbo Akademi University on their annual excursion to the Soviet Union. Åbo Akademi, a small Swedish-speaking university in western Finland, was always looking for additional people to accompany them to the Soviet Union. Most Finns didn't want to go. They had a long history with their eastern neighbor, much of it anguished.
A particularly painful episode occurred in 1939 when the Finns, much like the Ukrainians today, found themselves fighting alone to keep the USSR out of their country. They managed to hold out for one-hundred-and-four days against an army that vastly outnumbered them. Their resistance was so fierce that after their surrender Finland was not occupied.
Fifteen months later, the Finns tried to get some of their lost territory back. The Continuation War, as it is called in Finland, lasted from 1941 until 1944. This effort also ended in defeat. Vast areas of Finland's eastern border were lost forever. Finland had to absorb the resettlement of 11% of her population and she was saddled with onerous war reparations. Finally, she was left in the uneasy position of being able to have a democracy in her own country, but to have to watch her words and alliances when it came to anything outside of her borders. This uneasy state-of-affairs still prevailed when I lived in Finland in the nineteen-eighties. You had to be careful not to offend the Russians.
But that didn't mean you had to like them.
The extra travelers who came with the Åbo Akademi Russian Department to the Soviet Union were not Finns. Some were Swedish colleagues of the Akademi professors. There were also two Americans, myself and a sixteen-year-old exchange student who was studying at a nearby Finnish high school, and a group of Stockholmers. One young man, Igor, had a Swedish mother and a Ukrainian father. Igor was on a mission. He hadn't seen his father since his mother fled both her marriage and Kyiv, with Igor, when he was a child.
Most of my fellow travelers, Swedes or Finns, were academic types. They were bookish, learned, published. Igor was not. He had gone straight to work after high school, had a job in a store and spoke a brash, idiomatic South Stockholm Swedish which offended the tender ears of many of our professors.
I remember the bus ride in from Kyiv Airport through the snowy city streets. The driver was morose and silent, not understanding our Swedish chatter, until Igor stepped forward, sat in the front seat and addressed the man in Ukrainian. The driver came alive, grew voluble. It turned out he was a passionate supporter of Dynamo Kyiv and he and Igor smoked furiously and discussed soccer the rest of the way to the hotel.
We were staying at the Rus Hotel, so named for the ancient people from whom the modern Russians take their name. It sat high on a hill not far from the main street of Kyiv, Kreshatik.
Most of the students on the trip were elated to be visiting the Soviet Union for the first time, or, for those who had already completed a student exchange, to be returning. The reason was not political, but cultural, and even emotional. The Finns might be fierce fighters and patriots, but are not known for their laughter or their jokes. The Finnish students who were attracted to the Russian language and literature courses were also attracted to the celebratory nature of the Slavic culture, to its love of drama, both formal and personal, and to the passions the Slavs find it unnecessary to keep bottled up inside.
As soon as we could, we ran out into the city, made for Kreshatik and mingled with the crowds of people on the streets. We went into a bar and ordered beer and smoked fish. I was standing at a table with a girl who'd been on a student exchange to Leningrad the year before. She spoke outstanding Russian. We stood for only a few moments on our own, speaking quietly in Swedish, until a young man from another table approached to ask us respectfully where we came from. We said Finland. He asked us if we wanted to join their table. We picked up our beers and moved over.
And so it went. People were friendly when they realized they could communicate with us. They were curious. We went everywhere, drinking, talking, laughing.
The highlight of the trip, however, was Igor's reconnection with his father. Igor had come to Kyiv with only a phone number written on a creased piece of yellow paper. He made the call from a battered telephone box on a cold street off Kreshatik. I don't believe his father answered, but the person on the other end of the line knew who Igor was and confirmed that his father would come to the hotel the next day. Though this was encouraging, Igor still had the unenviable task of convincing the hotel to issue his father an entrance permit. The average Soviet citizen couldn't just waltz into a hotel where foreigners were staying.
"Cry if you have to," I remember saying to Igor as we waited to speak to the stern-looking woman with the magenta dye job who was in charge of issuing hotel entry permits for non-guests.
"I'm not going to cry." Igor looked offended, though he did cry, as soon as he started to explain that he hadn't seen his father since he was five.
The woman gave Igor the permission for his father to enter. I'm pretty sure she wasn't supposed to.
"That wouldn't have happened in Finland," I remember someone commenting as we walked away. "Nobody would have broken the rules for you and if you'd started to cry, they just would've stared at you."
But we were not in Finland. And the next day Igor walked down the approach hill to the hotel to meet his father for the first time in twenty years and to give him the green card that would allow Igor's father to enter the Rus together with Igor, his Swedish son. Later, I remember watching them sitting together at a table in the hotel dining room, Igor very quiet and serious like a little boy on his first day of school.
It is Igor I think of today as they fight in the streets of Kyiv. Did he return to Kyiv six years later when Ukraine achieved her independence? Did he return to make a life there? He would have been the perfect westerner to succeed in the post-Soviet world. He spoke the language. He had contacts. He had business savvy. I wonder if he married a Ukrainian woman, put down roots, had children. Did he come home to Sweden when he grew older, leaving these children behind? I wonder where he is right now. Is he there or is he watching as I am watching, from the safety of a distant land, as the Ukrainians, like the Finns in 1939, are left to fight and fail on their own?
There is a saying in Russian that St. Petersburg is the head, Moscow the heart and Kyiv, the mother of Russian cities. Kyiv is where the culture began, where the Orthodox faith was assumed by Prince Vladimir in 988. Can the Russians attack their mother and get away with it? Can they survive the shame?
Twelve years after my trip to Ukraine, I moved to Russia for ten months to teach English. My best friends were a couple with whom I have remained in contact for twenty-four years. When Russian troops crossed the Ukrainian border two weeks ago, my friends were shocked. They had not expected it to come to war, but they refused to believe that their government was lying to them. Our texts were careful, then tense, then they ceased altogether. It hurt me, but I hadn't been able to tell them what they wanted to hear.
Have I lost my Russian friends to war as I lost Igor to life? Maybe, but these are losses I can and will survive. Will the Ukrainians be so lucky? I hope so.
Image: Kyiv by Christine Schindler, licensed under CC 2.0.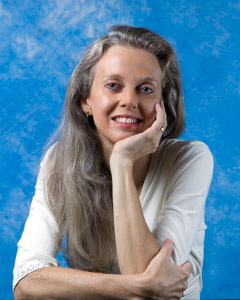 Latest posts by Linda Strange
(see all)