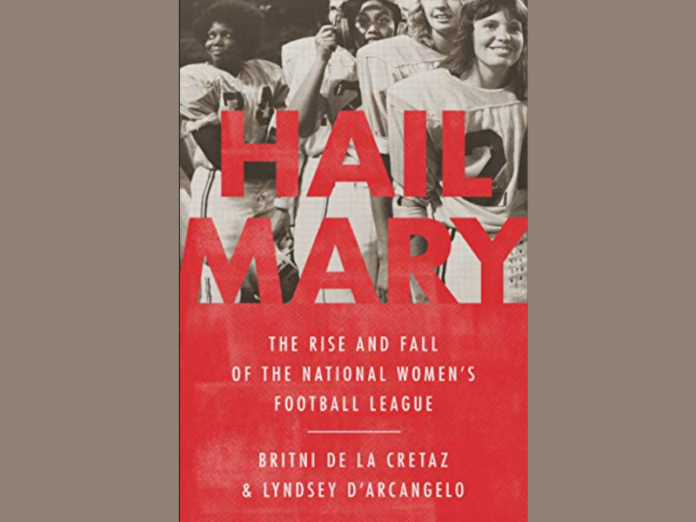 Eleven seniors and eleven juniors faced off against each other on a crisp fall day in a Nashville suburb. The high school had a football infatuation reminiscent of Friday Night Lights, crowds of thousands would show up for the games including cheerleaders with major dance routines and a professional announcer simulcasting on local airways. But this game wasn't like that. It was the annual powder puff game for the girls. It took place during a break in the middle of the school day and was held on a sloping side field between the classrooms and the baseball diamond.
The school didn't take the game seriously, but we did. We seniors were out to dominate. We had enlisted a few friends from the boys' football team to coach us and donned their jerseys and eye black to complete the effect. I was a linebacker, and I dug my fingers into the grass as we bent down for the snap. Adrenaline pumped through my veins, and I thought this must be what the boys felt every Friday. I understood the attraction.
Our coaches yelled instructions from the sidelines and our friends cheered as the game got heated. I don't remember if we won or lost, but that wasn't the point. In the end, we slung our arms around each other as we walked off the field, grass stained and sweaty, wiping away tears because it was over: Our only chance to play like the boys.
That day in Nashville was over thirty years ago but came back in a flash the moment I picked up Hail Mary: The Rise and Fall of the National Women's Football League by Frankie De La Cretaz and Lyndsey D'Arcangelo (Bold Type Books, 2021). Hail Mary is a detailed account of the short period of time during the 1970s that our country had a professional women's football league. Through thorough research and extensive interviews with the players, D'Arcangelo and de la Cretaz paint a vivid picture of this extraordinary venture with historical context and play-by-play action.
Hail Mary highlights issues that have echoed throughout the history of women's sports, primarily the struggle to be taken seriously. The narrative takes the readers through the complete span of women's football, diving into characters like Sid Freeman, "the P.T. Barnum of Women's Football" who organized a collection of teams at first as a gimmick, then as a money-making endeavor. Then follows the origins of the National Women's Football League's major teams, the Toledo Troopers — the winningest team in all of football history, male or female — the Dallas Bluebonnets that played in the home of the Dallas Cowboys, and the L.A. Dandelions that garnered the lion's share of national media attention due to their location. Close profiles of Troopers star Linda Jefferson who rushed for nearly nine thousand yards in her career, and Dandelion's quarterback Rose Low, a first generation Chinese-American who hid her participation from her parents until a promotional appearance on The Merv Griffin Show won their approval, along with dozens of other compelling stories bring to life the complete narrative of the league.
I met with Hail Mary co-author Lyndsey D'Arcangelo, and we discussed the frustrating disparity between the coverage and funding of men's and women's sports. "There's still a lot of hurdles for us to get over as far as equity in women's sports, to this day," Lyndsey said.
Due to the lack of documentation and prior research, most of the authors' research was done sifting through old newspaper articles, and Lyndsey shared her exasperation at what they both found. "Frankie and I would copy and paste articles to each other of what people wrote, mostly men, and it was downright appalling. It got old real fast."
Many of the articles tried to pin some kind of motive on the athletes, claiming that they were trying to be like men, or they wanted to prove a point, but the players unilaterally disagreed. "They just wanted to play," Lyndsey said, "it was as simple as that."
In the book, the authors write that while most of the players didn't identify with the feminist movement (or Women's Liberation Movement, as it was frequently called at the time), they were a part of it "simply by living their truths. In that way, they are like countless other women throughout history who never set out to change the world but did so anyway, just because they had the courage not to take no for an answer or accept the role that society told them they should hold."
"They didn't complain about getting paid pennies, or not getting paid at all, lack of proper equipment, and poor travel accommodations because they took what they could get at the time. But times have changed," write the authors. This is clearly evident in the 2022 hard fought and settled lawsuit by the U.S. Women's Soccer Team resulting in a multi-million dollar payout and a promise of equal pay going forward.
The power of bringing stories like this to light is to build on our forward progress. "These women deserve to be recognized," Lyndsey said. "It's also a part of history, not just sports history, but history in general. It's a story that I think can resonate with young women athletes today in a big way."
I agree. In my town's youth flag football league, there have been several all-girls teams, and plenty of girls that played on the boys' teams too. These children could be a part of the progress that carries through high school and collegiate athletics straight into professional sports. The women of the NWFL pushed through all of the ridicule, derision and exploitation and paved the way for the girls and women on the fields today. There are plenty of barriers left to break, but if we link arms with sister athletes past and present, young and old, we can give each other the power to push ahead yard by yard.
Image: Cover of Hail Mary: The Rise and Fall of the National Women's Football Leagueby Frankie De La Cretaz and Lyndsey D'Arcangelo (Bold Type Books, 2021), licensed under Fair Use Laws.
Latest posts by Aime Card
(see all)