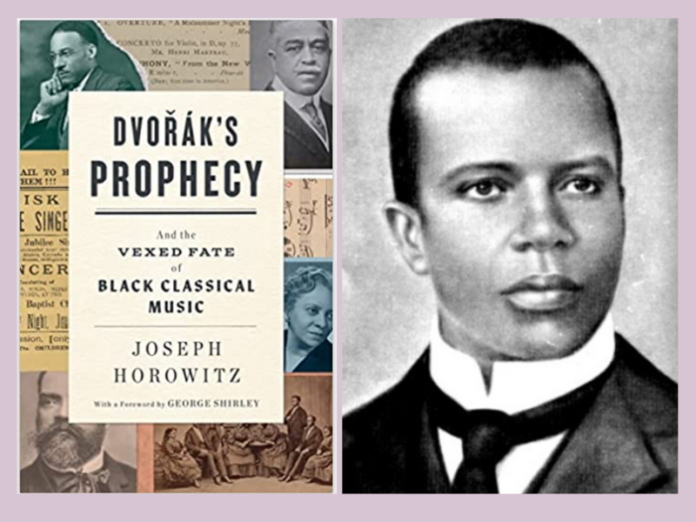 Dvorak's Prophecy: And the Vexing Fate of Black Classical Music by Joseph Horowitz (W.W. Norton & Company, 2022) is a clarion call to action for classical musicians in America. Horowitz calls us to take hold of our true musical history — including jazz, blues, ragtime, and the spirituals rooted in the sorrow songs of slavery — all essentially Black music that originated in America. This is not only the truest origin of American classical music; it's what Antonin Dvorak, the world-renowned Czech composer who came to the U.S. in 1892, prophesied. He said that "a great and noble school" of American classical music would be founded on Black music.
"But classical music in America stayed white," Horowitz writes. He is not afraid to call out Aaron Copland, Virgil Thompson, and Leonard Bernstein, long-considered some of America's top classical music composers (all white), as the musical snobs who squelched the early twentieth-century fires of Black classical composers in our country.
As a classical concert pianist, I have a long history of watching my talented Black classical music colleagues get undermined. The sad fact is that in all major American orchestras, only 1.8% of the musicians are Black, a statistic that doesn't touch the field of talent that's available. I wrote an essay about this problem, which prompted an editor at Norton to send me Horowitz's book. Although it was a history that I knew all too well from experience, I never knew its origins — white American composers attempting to relegate Black music only to the pop music realm, as an art not to be taken seriously in classical music. This, despite European composers such as Stravinsky, Debussy, and Ravel using elements of ragtime, jazz, and blues in so many of their compositions.
After reading the forward by George Shirley, the first African-American tenor to sing lead opera roles at the Met, I was hooked. I learned how much I did not know, and how much the history of our American musical roots in Black music was missing from the music history textbooks I studied in college and graduate school. Shirley writes, "The disconnection between the rich history of Black American music and the classical music we typically hear has proved impoverishing… Dvorak's Prophecy proposes a bigger world of American classical music than what we have known… more diverse… more equitable… more truthful."
It was the "more truthful" part that I'd missed out on in my college and graduate school music history courses. "Samuel Coleridge-Taylor belongs in the history of American classical music — but there is no place to put him," Horowitz writes. "Scott Joplin, the ragtime king… considered himself a classical composer." My music history books didn't inform me about Coleridge-Taylor, and Joplin was sidelined to ragtime as a precursor to jazz, not classical music.
I only recently heard the Black classical composer Florence Price's violin concerto. It was performed by Luci Lin, a well-known violinist in the Boston Symphony Orchestra. During her performance, I wondered why I hadn't heard this stunning, virtuosic concerto years earlier. Horowitz explains it this way: "By 1920, prejudice and habit had deflected most Black creative musical talent away from American classical music… In this even deeper memory hole may be glimpsed the interwar orchestral output of Nathaniel Dett, William Dawson, William Grant Still, and Florence Price." Price wrote her violin concerto in 1952; it wasn't published until 1975; and it was seventy years from the time of composition to my hearing it performed in public.
The more direct path to sidelining Black classical music belongs to white composers like Aaron Copland, who came after those Black classical composers that Horowitz lists as part of the "even deeper memory hole." Also sidelined by composers such as Aaron Copland, Virgil Thomson, and even Leonard Bernstein, were white composers George Gershwin and Charles Ives, for openly incorporating America's Black musical roots into their compositions. Horowitz favorably compares Ives' use of the vernacular of Black music in his compositions to Mark Twain's use of the vernacular of Black speech in Adventures of Huckleberry Finn, citing both as originators of a true American style. He also congratulates Ives, who "pioneered in incorporating ragtime in composed concert music." Aaron Copland on the other hand, wrote that "serious composers became aware of the polyrhythmic nature of Afro-American music only in its jazz phases," negating the sorrow songs, blues, and ragtime that preceded it. Horowitz puts Copland in his historical place, writing that it was "not Copland, but Gershwin" who mined "a usable American past traceable to… Joplin and Dvorak." It's clear from listening to or performing Copland and Gershwin's music that Copland so obscures the ragtime and jazz elements in his compositions as to make them almost unrecognizable.
I remember, while practicing Gershwin's Rhapsody in Blue to perform as a soloist with the Boston Pops Orchestra, feeling it was the closest I would ever get to playing jazz as a classical pianist — one who deciphered jazz written out on a full musical score rather than improvising it from chord charts. The polyrhythms were stunning, fun to play, and unlike any I'd encountered in 20th century classical music. Why? Because they were taken from Duke Ellington, not Wolfgang Amadeus Mozart. I was performing a concerto with true American roots, which began with Black American music, not white European.
Horowitz writes extensively about the American bifurcation of music into "classical" and "popular," which discarded its true roots in African-American music. He credits Dvorak, "a pivotal figure in this narrative" with consolidating "the Black and German threads" in American music and adding a third: "Indian." He sums it up this way: Dvorak's "once influential engagement with African-American and Native American sources deserves to be remembered as an act of empathy." When listening to Dvorak's compositions, both of these American sources are clearly quoted, not abstracted the way they are in Copland's compositions.
It would revolutionize the way Americans perceive their history, not just in music, but writ large, if we were to include all the cultures who have contributed to it. Horowitz writes, "Reframing American classical music is part of a larger, ongoing project reframing the American experience." Dvorak's Prophecy: And the Vexed Fate of Black Classical Music eloquently points out that this is the cultural moment to reexamine not only the way we view our musical history, but our entire American history. I hope we can step into it, not only as musicians, but as a people. For classical musicians, the time is overdue to stop white-washing our American musical history, and to see it for what it truly is — a music built of many different cultures.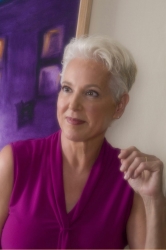 Latest posts by Linda Katherine Cutting
(see all)