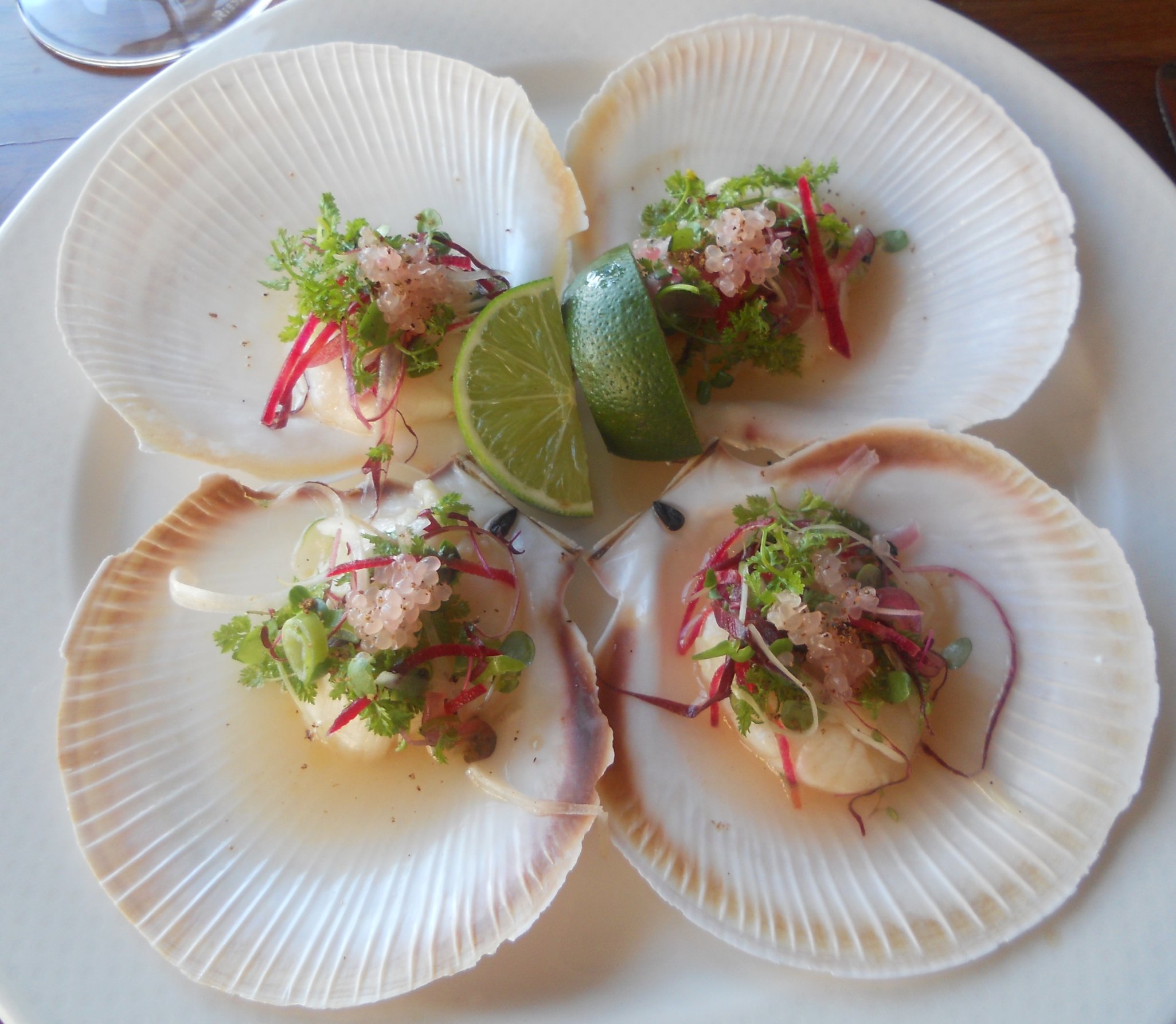 On the evening of Valentine's Day, 2019, Marisa, Arianna and I gathered at Kinship where Marisa worked as a hostess. She had just left a film production job at the same digital media company where Arianna and I still worked. I was a production coordinator—a low level producer with all the responsibilities of producing a film and none of the rank or salary commensurate with the exhaustive labor. We three young creatives, with big dreams but no means, could never have afforded to step into this kind of restaurant without Marisa's generous employee discount.
We tucked cozily into an alcove, the dining room's warm glow glinting off of our wine glasses atop the white linen. These glasses held remnants of cordials, merlot, and a peculiar milk-punch brewed by one of the bartenders. Left between us were the scrapings of shared dishes on grey ceramic plates: Maine lobster French toast with marinated rhubarb garnish, sublime sea scallops with celery root ribbons, and a delicately poached squash adorned with pomegranate seeds.
How marvelous it was to masquerade together as women of means. For one fine evening, I smiled over my fork's edge at the elegance, the sheer novelty of the experience. And for once, deliciously, dared not even to glance at the check when it arrived, instead laughing at some small aside made by my friend as I tucked my bank card within the soft leather bill folder.
At Kinship, a constellation of curious tastes and indulgences became a meal. Inspired by Americana nostalgia and worldly gastronomy, the menu at Kinship on 7th Street in Northwest Washington, D.C., is parsed out in lofty sections: Craft, History, Ingredients, Indulgence, and For the Table.
Craft
Three years prior to that night in Washington, I walked through the tall french doors of the nicest restaurant of my college town with a certain idea of what it meant to work there. The Press Room—so named for its building's history as the former newspaper press of our town—stood as a monolith of culture to me: the epitome of good taste and upward mobility. Watching the silhouetted couples so handsomely assembled in the windows, smiling over their plates of hanger steak and scallops, I wanted to be among them—to be the sort of well-dressed woman who dined to be seen by passersby on the street. The working-class kid from the Appalachian backwater as I was, that golden glow from within The Press Room was a distant constellation.
At that time, I had just finished studying drama in college and began to audition for professional productions. I had thought, however naively, that the labor of the restaurant would be an artless escape for my restless mind—a mind that fevered and fretted over monologues and audition tapes. As a young actor fresh out of school, I was also broke and in need of gainful employment beyond dusty staged readings of the works of Edgar Allen Poe (the sorts of performances I was inclined to be hired for in those days).
But what I learned instead was that dining was theatre: the patrons were not our audience, but itinerant actors: they came to be seen—to perform—the food was secondary. Humble servers and hosts were stagehands, dressed in rehearsal blacks, acutely keeping the machine alive, moving. I took the role of hostess.
The interior walls were bathed in butter yellow and adorned with remarkable oil paintings of vegetables—a resplendent still life of a radish, an artful bundle of carrots sprawled over a woven basket. Dark wood tables draped in white linens, lit by glowing votives, filled the dining rooms. For a few nights a week, I stood in the dim corners by the host stand, leaning into the heritage hickory wood furniture. On guest tickets, I scrawled little poems, to-do lists: a general dusting out of the attic of my thoughts.
The beauty of the restaurant was in the graceful economy of movement during the dinner rush. All our best servers were confident, bold, and incredibly knowledgeable. They understood the origins of our produce, what farms raised our meat, which dishes paired best with our enviable wine list, and what films were playing at the old opera house next door.
I was a graceful, glittering ornament that glided between tables, chauffeuring guests to the booths, remembering the way they took their drinks and their complicated relationships with another (don't sit the visiting actress near the booths—that's where her last boyfriend left her; try the window seat instead, it's a date with someone new).
And for those months, I ate and wrote and observed.
History
My time in food was a blip—just under a year—something so brief, I don't include it on my resume. All I have left from those days are oyster shells I took home after shifts, an honest desire to cook, and a hunger to be in the theater of desire again—wild, mechanic, humming.
My most dire mistake as a hostess was once saying noodle instead of pasta: a cardinal sin in the restaurant industry, soliciting an audible gasp from the server who trained me. After a few months of going through the motions, my duties become rote. The movements of dinner service carry your bones, guide your thoughts. A new lexicon of industry lingo emerges—continuous utterances of behind and pick up and half a dozen well-fleet and replace the candles on 7; the language that become the fibers of work life.
This was the ceremony of a shift: I arrived maybe 15 minutes before service, wearing black trousers, a long sleeved black v-neck, and soft red lip stain. I entered the scene in media res, a restaurant in transformation: someone is rolling the dinosaur of the vacuum out of sight. (We charged $30 an entree but had been using the same vacuum since the early 2000s.) I scrawled the day's specials (swordfish, risotto, the beloved bolognese) onto the chalkboard and carried them outside to the sidewalk below. I checked the reservations. Everyone wanted the window seats, as per usual. We would be slammed around 6:30 pm, but service would ease as always after 8 pm. I dimmed the lights, lit the candles, and started the music: Frank Sinatra radio. The bartender told me that this hadn't changed in the last five years. I then began my vigil at the hostess stand. I gazed through the tall window panes of The Press Room's facade, and back to the dining room. A dark stage, waiting.
Typical patrons were "established" men—professionals, middle aged somethings occasionally with their wives, often with their girlfriends. These men believed they owned the dining room, as they believe they owned the world, tossing off phrases like economic malaise. Baby boomers, really. Don't worry, they're on their way out—a server assured me one night after a particularly unbearable guest offered me opera tickets if I went home with him that night.
These diners, charming and insufferable as they were, came and went like moths to our votives and oysters. I gave them what they wanted: a honeyed laugh at their anecdotes, an understanding smile.
For the Table
I learned how to move among men. I studied how to subvert and quietly reign, to challenge their insinuations with a blank stare, how to coax tips with conversation. I sold dreams of cuisine and nostalgia during the few moments of walking from the door to their table.
I was kinetic energy unwinding, coming to understand the minutiae of the world around me. I carried myself across that dining room floor with a straight back and a shift drink in hand. Maybe with another year, I would've caught my rhythm and become a server, and perhaps finally learned about the terroir of wine.
I miss the repetitive motions of my choreography and the way dim light silhouetted patrons with their heads bowed to eat, as though in prayer. I think often of those ten paces I memorized from the host stand to the kitchen, of the anteroom where we made coffees, of the meditative moments as the patrons finally trickled out into the night.
When I sipped the last maroon dregs from my glass that snowy evening in Washington, I couldn't tell you the wine's provenance, from what good earth this splendid thing balanced delicately in the glass between my palms had clandestinely emerged. But I could tell you how glorious it was to sit in those sleek booths at Kinship in the company of women and candlelight. To dine, as the food people wish us to dine, is to indulge. I was beyond the fourth wall, a patron in this opulent theater of desire. I savored the feeling as I let the players on the stage perform thinking, I have arrived—delight me.
Photo: Scallops by Jameson Fink licensed under CC 2.0