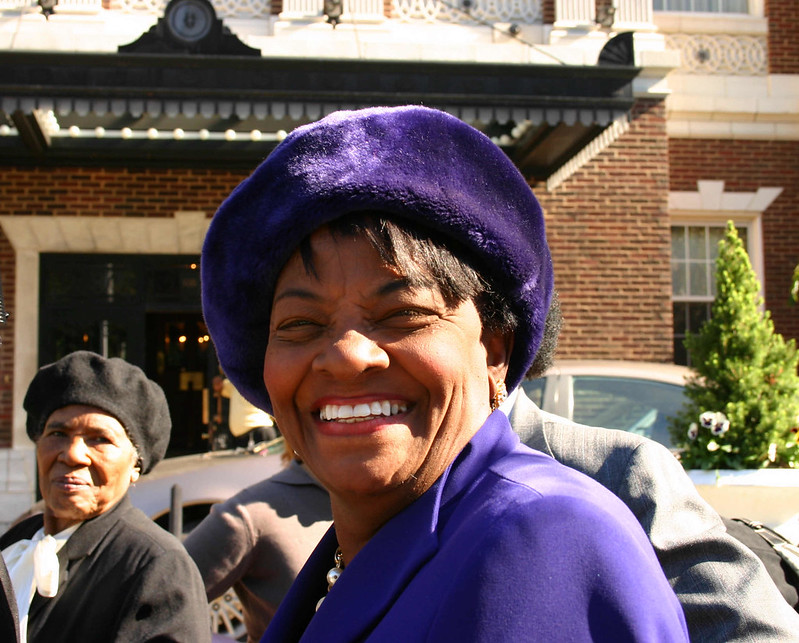 The best place to find a tasty slice of pound cake is in the basement of a Black church after Sunday services.
On a typical Sunday, Baptist, AME (African Methodist Episcopal), CME (Christian Methodist Episcopal, and some UCC (United Church of Christ) churches will have opened their doors at 7am for Sunrise Service, Bible Study at 9am, and the Pastor's Word at 11am.
When I was a girl, our family rarely went to service at a Black church. Instead, we attended Mass at the local parish Catholic church where I went to school. That ritual was about kneeling, sitting down, and Passing the Peace by shaking hands with your neighbors in the pews in front of you, behind you and, if there was enough time, across the aisle from you. During the Passing of the Peace, soft music from a piano or an organ was played. The choir, after passing the peace among themselves, sat quietly.
But when my parents attended an event on a Saturday night, my siblings and I stayed over at my grandmother's house and attended services with her the next morning at Bethel AME Church. At Bethel there was also a time during which you passed the peace, though it took place earlier in the service, and it was referred to as a Call to Worship. During this segment people walked up and down the aisles greeting old friends and new with handshakes, hugs, pecks on cheeks as if they hadn't seen one another in years instead of the Sunday before.
My grandmother, who was known as Mrs. Conrad at church, was treasurer of the Petite Matrons, a group of women who raised money for community causes sponsored by the church. Everyone knew her. People made their way to our pew to greet her, then they patted our heads or plucked our cheeks, exclaiming how big we had grown, and asked about how well we were doing in school. Although, it was assumed, and rightly so, that we were doing well, as if any of Mrs. Conrad's grandchildren would ever not be doing well in school.
The choir sang two, three, maybe even four songs in the run up to the CME holidays: Christmas, Mother's Day, and Easter. Some people danced in their seat and in the aisles. It was like a celebration until the Pastor rose from his chair and stood at the lectern. My grandmother then handed each of us a piece of Brach's candy, either peppermint or butterscotch flavored, from a pouch in her pocketbook. The choir quieted, and everyone settled down for the Pastor's Word.
Praising the Lord all day like that can make a body hungry, so it was good to know that supper would be provided along with a hunk–the size depends on who's doing the slicing–of pound cake, baked with love by mothers of the church, elders who have "made it through" and therefore, must be treated with respect and deference.
Avoid the pound cake with icing. The only reason a pound cake needs icing is to cover up a flaw. As my grandmother once explained, "A woman needs a basic black dress in her closet, and there's no need to add sparkles and bows to a basic black dress."
If we were patient, we might get another hunk wrapped in plastic and foil to take home for a late-night snack. If we helped to clean up–folding plastic chairs and returning them to the closet or emptying the trash–we could also listen in on grownup conversations and church gossip, which my grandmother called, 'the soap opera of secrets and lies'.
For everything there is a season, and a time for every purpose under heaven… a time to sow and a time to pluck up what has been sown.
Season. From Latin satio(n-) a time of sowing
Unlike fruit pies or spiced cakes, chilled puddings or iced cream, pound cake is always in season, on a warm summer day or a chilly afternoon. Pound cake has been in America since its founding, when house slaves or indentured servants did all the sowing in the fields and the cooking in the kitchens, before electric mixers and temperature-controlled ovens. If a household was wealthy enough to own human beings and hire help, then they also had a cow and some chickens out back, in the field, on the plantation.
My grandmother's grandmother was a slave. Her name was Amelia. My grandmother named her oldest girl, my aunt, after her. My grandmother, Ernestine, was named after her father, Ernest, but her middle name was Harriet; she was given that out of respect for Harriet Tubman. A woman who knew that the only way to take care of others, was to take care of yourself first.
Until Emancipation, it was illegal to teach a slave to read. Information was passed down via an oral tradition through generations of Black people, via names and memories and stories. Recipes too were narrated–a handful of this, a sprinkle of that, a little more, not so much. Recipes, memories, stories and wisdom are more precious than rubies.
To Season. From Middle English sesoun to add flavor
The recipe calls for small amounts of vanilla and lemon juice for aromas of sweetness and tang. Pound cakes were especially popular in the South where to this day "tea" is iced and sweetened unless specified otherwise, and lemon trees thrive in the warm climes. In the early days of pound cake, it is likely that lemon was the only flavor added to those cake batters. The probability is even higher because lemon yellow is the color of pound cake after it's baked.
Vanilla originated in Mexico; it's derived from orchids after pollination; vanilla pods originate from within the flower. A slave discovered how to pollinate the flower by hand, thereby making it profitable to cultivate the pods, though pure vanilla is still very expensive to this day.
The slave's discovery is a reminder: danger comes from within. For this slave also condemned generations of black and brown people to pick yet another fruit for meager wages. Of course, brown and black people picking fruit and vegetables have been and continue to be exploited the world over. Weeping may endure for a night, but joy comes in the morning. Yet what we suffer now is nothing compared to the glory revealed later.
Seasoned. From Old French as saisonné ripe, mature, hardened by keeping
The most important ingredient for pound cake is a seasoned pan. By eye and by hand the nicks and cracks are present on the outside. The inside is smooth and supple, honed by years of use by its owner. The cliché, 'don't judge a book by its cover', is exemplified by that pan. People may look hard, beat up, mean, and angry because they are. Be patient and confident in this. God is not through with us yet.
BLACK CHURCH BASEMENT POUND CAKE
1 lb. of butter (all four sticks, softened)
1 lb. sugar (2 cups)
1 lb. eggs (½ dozen)
1 lb. flour (3 ½ cups)
½ cup of heavy cream (do not skimp with a substitution)
1 teaspoon each vanilla extract and lemon juice
The butter and sugar are creamed together until the mixture is a pale yellow, the color of sunshine at dawn. Crack an egg, add to batter, blend, repeat, until all six of the eggs have been used. Next add some of the flour, blend then pour more flour, blend until the pale-yellow color returns at the end of each sequence.
Your arm should maintain a steady rhythm at each stage–crack/blend, then pour/blend–so that it doesn't ache. There's already enough pain in your body from the loves and the losses, the babies and the children, the hurts and the fears, the crying all night, and the dancing 'til dawn.
Add the vanilla and the juice from half a not-too-ripe lemon, blend.
Bake at 350 degrees until it smells good and a knife slid into the middle of the cake comes out clean.
The recipe is deceptively simple. The process of adding and mixing the ingredients is key to a good cake, and a life well lived.
Image: "BWH.Parks.AME" by Elvert Barnes, licensed under CC 2.0.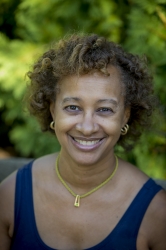 Latest posts by Angie Chatman
(see all)