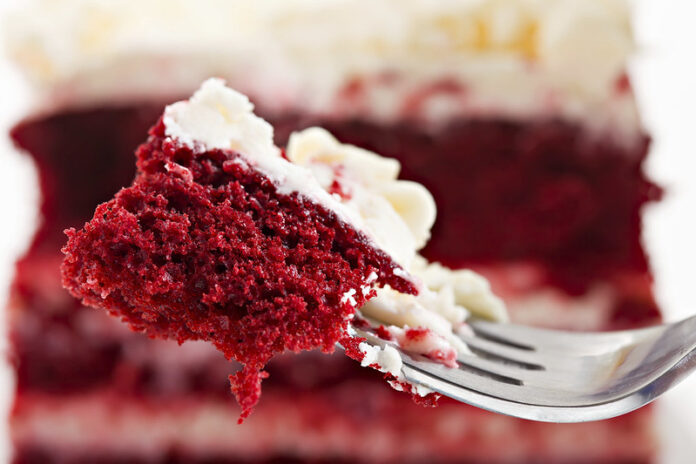 Everyone celebrated my mother's Red Cake, how she held the magic to meld simple flour and butter and eggs into something delicious — her skill proof of the homemaking domain she ruled, the domain I was supposed to inherit.
In 1963, Mom wrangled the recipe from our neighbor. Mrs. G. claimed she'd gotten it from a famous chef who swore her to secrecy. My mother promised she would never tell.
I imagine my young-girl-self watching the two housewives stand on the back porch, wind whipping their aprons. Squinting against the sun, I looked up at my mother who clutched the paper, impatient to get her hands on the mixing bowls, to turn on the oven.
2 teaspoons cocoa
2 1-oz bottles red food coloring
Mix cocoa into red food coloring (stir well) and set aside
On Red Cake days, I was expected to help, to learn. With her hand on the whisk strong and sure, my mother tilted the bowl to show me.
"See, the cocoa adds a little brown, so the batter turns red instead of pink." I shrugged, longing to get back to my book.
The kitchen counter looked like someone had bled all over it. I dipped my finger in the batter; it came back dyed. I licked it, my tongue turned red.
My mother pointed to the sink. "Get a dishrag, clean as you go."
From the window, I watched my younger brother and sisters play in the yard. Running and chasing each other, their laughter bubbling over. Wishing I could join them, I bit back tears as I scrubbed at the stains. I wondered what it would be like to hear my mother say, you've done enough, go on, nodding towards the door.
Pulling out the hand mixer she said, "Now we're ready for the next step." I knew she wanted me to reach out, but I leaned against the counter, arms crossed over my tee shirt, silent and unyielding. Turning from me, my mother dipped the mixer into the bowl.
*
We never called that cake Velvet or Flame Room. Too fancy for my working-class family. But Red Cake crowned the table at church potlucks, anniversaries, birthdays. No party felt complete without it. For years, my mother's friends begged her to divulge the secret, but she refused to reveal the ingredients, spreading her legend.
Cake plate held high, Mom would enter the room to oohs and aahs. I clutched my fork, held my breath, full of desire. I sighed as she made the first cut through white frosting to reveal its heart, red crumbs coating the knife. I'd wait impatiently for my plate to make it around the table, for that first sweet bite that helped me forget an afternoon spent in the kitchen.
1 teaspoon soda
1 teaspoon vinegar
Back then, no one worried about anything children put in their mouths. No one worried about preservatives or sugar or fat. No one worried about red dye #2. If it made the cake fluffy, deep red, that's all that mattered.
Later, when they changed that food coloring to a less toxic formula my mother shook her head, anxious it wouldn't taste and look the same.
Trying a forkful, I said, "It's still Red Cake."
My mother smiled. She expected life to continue as she'd always known it, for me to follow in her footsteps. To be like her. She couldn't imagine I might choose a different direction.
Mix soda into vinegar and set aside
I am the eldest daughter of an eldest daughter, a legacy that carries responsibility. To my mother it meant that I should help with household chores to ease her load. Just as she had been expected to do when she was my age. I cared for my younger sisters, presided over their baths and helped them dress. I washed dishes and swept the living room floor. By the time I was twelve, I made family dinners while my mother sewed or ironed. Swelling my sense of injustice, I tallied each chore in my head.
My mother expected me to put down my books and join her in the kitchen. What I enjoyed didn't matter. And as a teenager, I stood in the doorway, refusing to enter.
My anger often flared with a vengeance. Face blazing, I flung words. "You don't understand me. You never listen to me. Why can't you leave me alone?"
Bewildered, my mother turned from the stove to stare at me across the line I drew. "But you should want to help me."
We boiled over like vinegar and soda into battles that could rage for hours, leaving us both wet with tears.
½ cup Crisco
1½ cups sugar
2 eggs
scant teaspoon salt
1 teaspoon vanilla
What does Red taste like? Vanilla, buttermilk, flour, cocoa. Sweet and sour, earthy and bitter. Every time I slide a forkful of Red Cake into my mouth, I taste the discord of my childhood: the love my mother whipped into the bowl and her plan for me to join her in the world of aprons and recipes. The love I craved but not the life.
I never learned all the steps required to bake a Red Cake. When I left for college, I couldn't wait to get out of the kitchen.
Mix items in #3 and beat well – until light and fluffy
Add cocoa and coloring into #3 a little at a time and mix well
By the time I graduated, I'd rejected more than cooking and cleaning. I forced my religious mother to swallow my new rebellion, including a before-marriage apartment with my boyfriend. I thought that arrangement might make me into the woman I sought to become.
And when I did agree to marry, I refused a church ceremony and asked my mother to bake a Red Cake. My mother dreamed of a traditional wedding, just as she envisioned a traditional life for me. But any wedding was better than none, so she gave me the cake I craved.
In the not-white dress I'd chosen, I watched my mother cut through the frosting to reveal the surprise of the Scarlet Letter-A cake inside. I was only twenty-three years old and didn't understand what I was doing. I believed that cake represented rebellion but now I wonder if I was seeking reconciliation.
1 cup buttermilk
2½ cups sifted cake flour
Add flour and buttermilk alternately
Many decades later, long after my marriage ended, my father entered a nursing home. On her own for the first time since they'd met, my mother moved into a smaller apartment. It had a serviceable albeit tiny kitchen, but she didn't bake anymore. At eighty-seven years old, she suffered with such agonizing arthritis she could barely walk. I was sure I'd seen the last of her Red Cake.
Bake in well-greased and floured cake pan
in a 350° oven for about 35 minutes
or until cake springs back when touched
in the center with a light touch of the finger.
When she told me, "I don't want to live like this anymore," dark settled in my stomach.
After her hip replacement, I watched my mother for signs. I didn't want to believe that strong woman would give up the fight. I wasn't ready to lose her.
We had stopped battling years ago. I'd learned to hold my tongue if not my temper. I found my way as a writer and teacher — and not a wife and mother. The person I'd sought to be.
Yet, although we'd reached a truce, I couldn't call it understanding. Had she stopped wishing I'd chosen a life like hers? Had we come to accept our differences? These were questions I was afraid to ask.
Let cakes cool before frosting.
If they are still warm
the butter mixture will not adhere to them.
Months passed, and my mother walked better and better. When I visited, we paced the halls of her building together. I held her arm, slowing my feet to match her tempo.
When the family gathered for Christmas, Mom said, "I'm making Red Cake." Relief swept over me; she wasn't ready to quit.
I found that following this sequence works much better
than to try to change it in any way.
Some time when I wasn't paying attention, the resentment over my childhood sweetened. I stopped fighting against the woman my mother is. I hoped she had come to accept the woman I am.
I can't name a moment when I felt a lightness about our relationship, the melting away of bitterness. I could now accept how we mixed with each other. It's not that I never got annoyed, that my anger never rose. But it wasn't the same young rage.
What I know is this: my father died, and I watched the candle burning beside his body and my mother kissing his cold face. As she turned, I took her arm to help her out the door. I think that's when it happened. Something opened wide in me long before I was even aware of it. Love welled up.
And, although I wasn't looking, something rose in my mother as well.
*
A few months later she and I sat together in her little apartment. We drank coffee and ate scones I pulled from a paper bag. I listened as Mom reminisced about her days as a farm girl.
Leaning back in her recliner, she said, "My parents' family only cared about what was practical. We just worked. That's how I was raised."
I frowned. "And that's the way you raised me." I sipped my coffee, waiting.
My mother turned to me. "Did I? I guess you're right." She shook her head. "I just didn't realize it."
Rattling my cup on its saucer, I stared at her. "Really?" Both shaking our heads, we laughed, just a little.
I'd never heard such words from my mother, not an apology but at least acknowledgement. For the first time since I was a girl, I didn't flush with anger. For the first time, I felt my mother had listened to me. And perhaps, for the first time I could listen to her.
I bit into the soft center of the scone I hadn't baked. Sweet but no tang. Earthy but no depth. None of the complexity of the conflict and love swirling in our relationship. For the first time, I wished I could take out the mixing bowls and whisk together a Red Cake for my mother.
Image: Red Velvet Cake, AdamsBest, licensed under CC 2.0.